This is a guest post by Anne Staley. If you'd like to guest post on this blog, click here.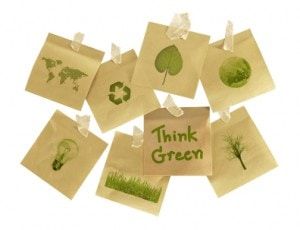 If there's one thing I know about passion, it's not lukewarm. It doesn't sit on the fence. It's intense. It's extreme. It makes you do crazy stuff like jump out of a plane or scale treacherous mountain peaks.
If you've ever been consumed by passion, you'll know exactly what I am talking about. If not, you've been missing out on something is all I can say.
For me, passion begins and ends with the environment. Yes, it doesn't make me jump off planes (thankfully!!!), but I am devoted to the cause and won't stop at anything to make sure I live a greener life each day and so does everyone around me.
Some may call me a tree-hugging hippie. I choose to call myself committed.
Anyway, what I am trying to ask here is that if you share my passion for the environment, where are you on your green journey? Are you still taking baby steps towards going green or ready for some extreme measures? To what extent are you ready to go to go green? Let's take this quiz to find out:
1. Can you sell your car?
U.S. is the largest consumer of oil in the world and used 18.6 millions of barrels of oil per day in 2012, according to the Energy Information Administration. We all think it's difficult to survive in this country without a car. How do you get anywhere without a set of wheels? The truth is in many countries, a car is still considered a luxury. But we're not giving up the car because we want to scale down our lifestyle. We're giving up the car simply because it's extremely hazardous for our environment not to mention it guzzles precious, non-renewable fuel. What about when you have to get to places? Use the public transport system in your city. Better still, bike or walk to your destination.
2. Can you give up traditional electricity?
The use of solar energy to power homes is not new. Because of its high cost, only a select few environmentally conscious celebrities were using it until now. But there's been a drop in the cost of installing solar panels in homes in the last few years, bringing it within the reach of many average Americans. It still won't come cheap, but then your passion isn't cheap either.
3. Can you give up cosmetics and diamonds?
For any woman, this will be an extremely tough decision to make. Diamonds are not a girl's best friend for nothing. But do you know where these diamonds come from? Many of these are blood diamonds mined from war zones in Africa and Russia. So, you can either banish diamonds from your life altogether or wear only conflict-free gems. Use cosmetics that are a 100 percent organic and cruelty-free or go without makeup. Nothing will make a stronger statement of a girl's commitment to the environment!
4. Can you give up the bathtub?
Actress Julia Roberts is believed to practice shower economy. Can you take a leaf out of her book and say goodbye to your inviting bathtub? Give up your extended, warm, and luxurious baths for quick 2-minute showers and you'll end up saving a lot of water. I know there's nothing more relaxing than a dip in the tub after a long and tiring day, but passion for a cause comes at a price. Find other ways to unwind – read a book, light some scented candles, put on music, or sip some wine.
5. Can you stop buying trashable items?
This essentially means anything that cannot be re-used/recycled does not cross your threshold. Your goal should be to generate zero trash. You should be able to re-use everything that you buy and recycle or compost the rest. Selling your metal scrap or e-waste to private recyclers like SIMS Metal Management with facilities from Richmond, Virginia to Redwood City, California is also an option. If the thing that you're buying cannot be re-used, recycled, composted, or sold for scrap at some stage – don't buy it!
Scores:
If you answered "no" to all the above questions, you are still some distance away from being a serious environmentalist.
If you answered "yes" to at least three of the above questions, you are trying hard to become a serious environmentalist.
If you answered "yes" to all the above questions, congratulations! You are one hard-core environmentalist.
This guest article was written by Anne Staley who is an environmentalist who likes to express her thoughts and beliefs through the written word. Her motto in life is to better the lives of others through the knowledge she shares. She loves nature and urges her readers to go green. She shares her thoughts through creative writing and blogs.
Please subscribe to my blog using the RSS link or email updates,follow me on Twitter, or on Pinterest.
If you enjoyed this post please click on one of the icons below and share the love.