Are you looking for the best seated calf raise machine for a home gym? Well, I certainly found one, the XMark Seated Calf Raise Machine – Model XM-7613, that I feel is the best value on the market especially for a home gym. Read on for a detailed review.
Since the pandemic struck back in 2020 many of us who are fitness-fanatics ended up scattering to set up a home gym as most gyms were shut down. Fortunately for me, I already had a home gym in my shed that I had been in the process of using and furnishing with equipment.
One of the specialty machines or pieces of equipment that I always wanted in my home gym was a seated calf raise machine. So I researched far and wide for the best seated calf machine for a home gym.
I think I found the best one for my needs, the XMark Model XM-7613, at a price point that I was willing to shell out. It isn't the most expensive like the ones I used to use when I frequented well-furnished weightlifting gyms, but it's well-built with a high rating and at a price that made it worth my while to take the plunge.
The XMark Seated Calf Machine is what I have found to be the best machine to do a seated calf raise at home. Why do I say that? Well, it's clearly a well-built piece of weightlifting equipment. Some of its features can be seen below.
Material – 11-Gauge 2″ x 3″ Steel Construction
Color – Grey
Seated Calf Raise Machine Weight – 80 Pounds
Dimensions (LxWxH) – 47.5 x 22 x 35 inches
Skid-resistant feet
Scratch-resistant, baked powder coat finish
Dual Olympic weight posts
Height-adjustable swiveling thigh pads
Ultra thick Duracraft cushions for firm and pliable support
Textured Non-Slip Foot Brace Bar
Small footprint makes it an ideal piece of equipment for a home gym
Weight of unit makes it easy to move around a home gym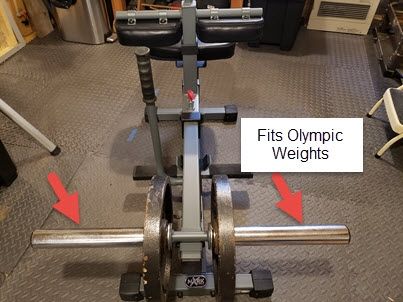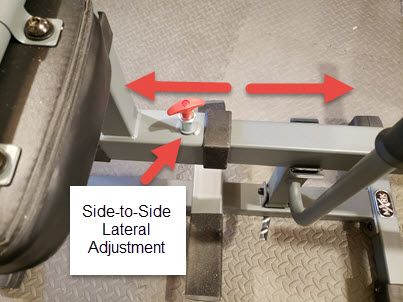 My Calf Raise Machine Unboxing/Assembly Video
Here is a video detailing me unboxing and assembling the XMark Seated Calf Machine.
For many lifters, like me, the calf muscles are extremely tough to grow. I happen to think that big calves are essentially due to heredity but that doesn't mean that those of us who are calf-challenged, can't make them grow over time.
My XMark Seated Calf Raise Machine YouTube Review
Includes Me Performing a Seated Calf Raise Exercise
Here is a detailed YouTube video review of the XMark Seated Calf Raise Machine that I did after using the machine for over a year. It goes over all of the features of the machine and also includes a demonstration of me using the machine toward the end of the video.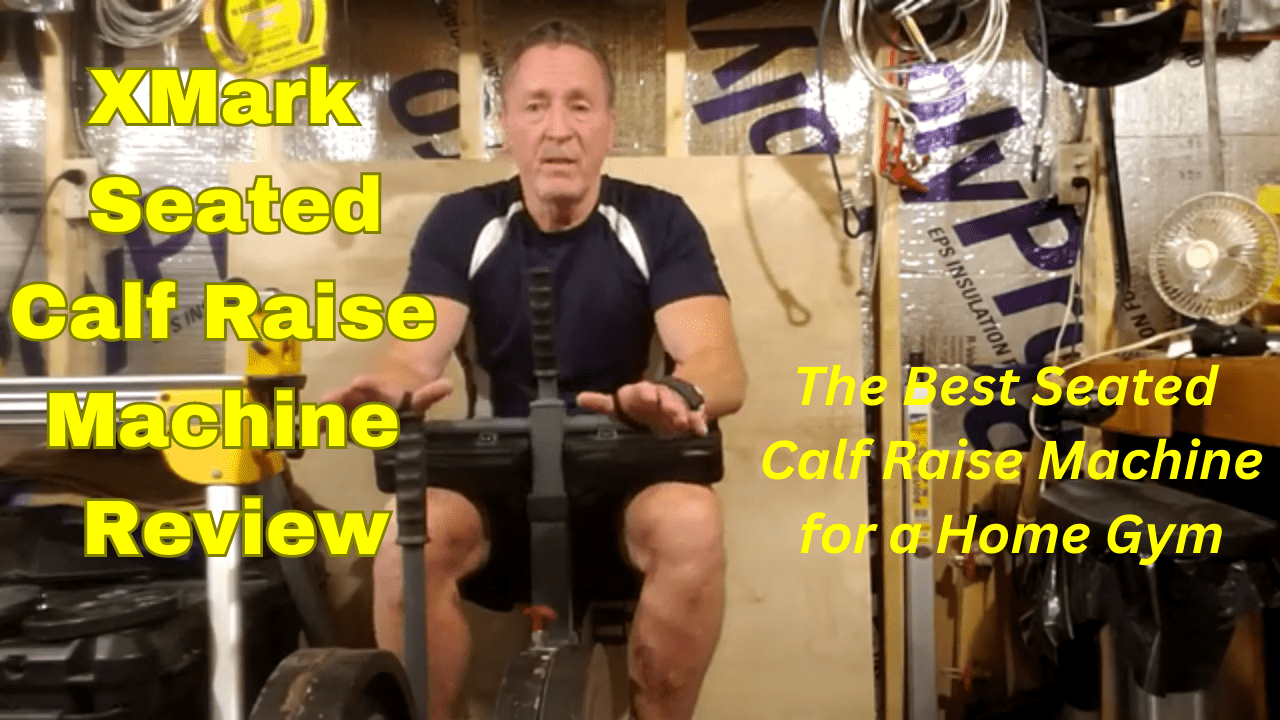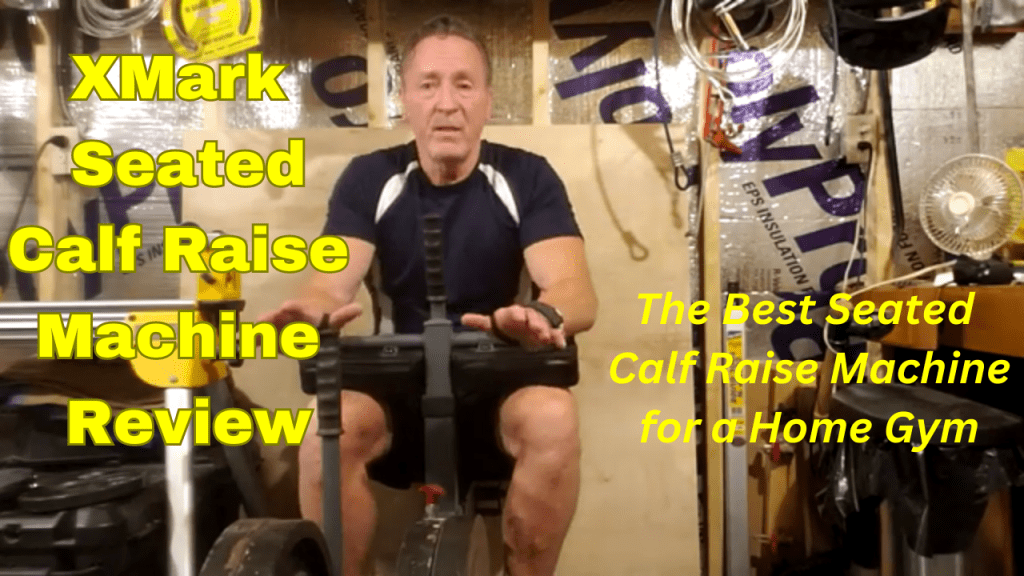 You can click here to view the video or click on the image above.
0:00 – Introduction to the XMark Seated Calf Raise Machine Review.
3:15 – Closeup of the seat cushion and thigh cushions of the seated calf machine.
4:18 – Closeup of the adjustable slide of the XMark calf raise machine.
4:55 – Detailed look at the adjustable pad frame of the seated calf machine.
5:24 – Detailed closeup of the footpads of the calf machine from XMark.
6:04 – A look at the stopper frame of the seated calf raise machine and how it works.
6:50 – Closeup of the weight holders or weight horns of the XMark calf raise machine.
10:25 – A quick demonstration of me using the seated calf raise machine from XMark.
12:50 – Final conclusion of the XMark seated calf raise machine review.
I like to look at weight lifting from a systematic point of view and try to understand the science of the muscles. So I did my research and I found a particularly informational source, Jeff Nippard, on how to build muscle and weight the right way.
Jeff's YouTube Channel looks at the science of building muscle and he has a particularly detailed video on the calves. The schematic below on calves I found in that particular video.
Calf Muscles Detailed in Relation to a Seated Calf Raise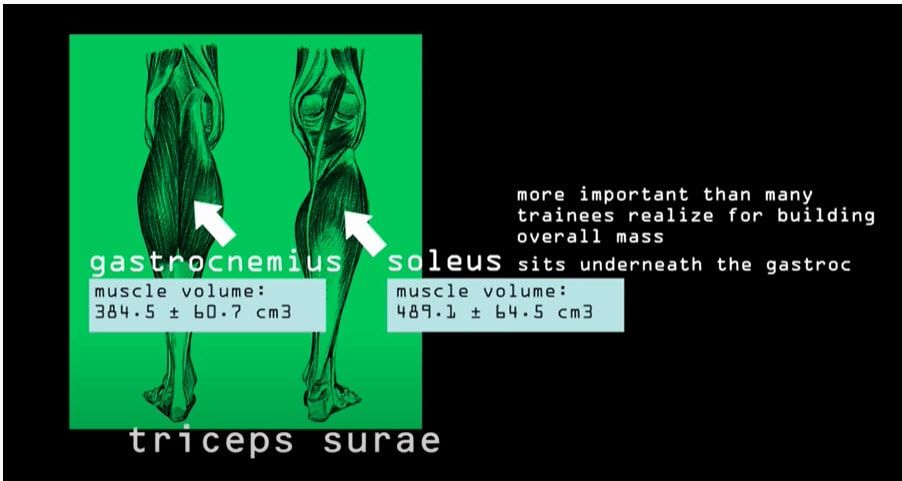 Gastrocnemius
Wikipedia identifies the gastrocnemius as the following: a superficial two-headed muscle that is in the back part of the lower leg of humans. It runs from its two heads just above the knee to the heel, a three joint muscle (knee, ankle and subtalar joints).
I know, it's a funny name but this muscle is typically referred to as the Gastroc. It's a lot easier that remembering the full name.
Soleus
Wikipedia identifies the soleus as the following: a powerful muscle in the back part of the lower leg (the calf). It runs from just below the knee to the heel, and is involved in standing and walking. It is closely connected to the gastrocnemius muscle and some anatomists consider them to be a single muscle, the triceps surae.
It is important to note that the soleus, which sits underneath the gastrocnemius, is the muscle which is primarily affected when you use a seated calf raise machine. The gastrocnemius is more affected by a standing calf raise.
It is also important to note that the soleus has more muscle volume (as noted in the image above) so it's extremely important to utilize a seated calf raise machine in your weight workouts. It's an ideal piece of weight equipment for calf development.
It actually makes more sense to use a combination of a sitting calf raise machine as well as performing standing calf raises. It is important that when you work your calves you should perform at least one standing calf raise exercise and one seated calf raise exercise in your weight repertoire.
This will ensure that both the soleus and the gastrocnemius are stimulated and flexed during your calf workout which should lead to growth over time. Please note that the soleus sits beneath the gastrocnemius so if the soleus grows it should lead to much fuller lower legs which is the point of any muscle-building activity.
Standing vs Seated Calf Raise
Standing Calf Raise Options
Squat Rack
Any weightlifting gym will have a number of squat racks available for use but from my experience they are typically occupied. That's why when I used to go to a gym, I would try to go off-hours when there aren't too many weight lifters. Lifters tend to gravitate toward certain pieces of weight equipment and the squat rack is certainly one of them.
To perform standing calf raises, assuming you are using a squat rack and the bar is resting on top of your back (as seen above), you typically want to do them with the balls of your feet resting on a raised platform so that you can get full extension of your calves. Remember with standing calf raises, you are hitting the gastrocnemius mentioned above.
If you are in a gym, the raised platform could be a couple of 25 pound weight plates on top of each other so that you can get full extension when performing the repetitions. Or possibly you could find a raised platform available for you to use (maybe a platform used for a step workout rather than a weight would certainly work).
Barbell Support
I have a York Pro Barbell Support which I use for bench presses and when I perform standing calf exercises in my home gym. I couldn't do without this foundation piece of weight equipment in my home gym. When not on my barbell support my 7 foot Olympic bar is on my wall-mounted barbell holder from Yes4All.
The last I checked the barbell support was available on Amazon but there are other comparable models. I use a couple of 2X6's sandwiched together with screws and place the balls of my feet onto the wood platform.
Then, with my Olympic weight bar resting on the safety bars of my barbell support I grab the bar, always wearing my Rip Toned Wrist Wraps, like I was going to do dead lifts (each hand in opposite direction as seen above) and perform my calf raises in this manner. I always try to get full extension and count to two at the top of the calf raise and at the bottom.
Standing with Dumbbells in each Hand
Another option you have for performing a calf raise in a standing position is to grab a dumbbell in each hand (a reasonable weight you can handle) and place the balls of your feet on a platform. Then just raise and lower your feet just as you have done with the other exercises. This is simply another variation of a standing calf raise.
Standing Calf Machine
If you are a member of a gym then you probably have access to standing calf raise machines. I work out at home so I don't have access to this specialized piece of weight equipment.
But if you do, this machine is made for your lower leg development in a standing position. One again, since the platform your feet are on is raised you can get full extension.
It is important to note that a standing calf raise machine price is typically more than a seated version but not always.
Seated Calf Raise Options
Seated with Dumbbells in Each Hand
If you don't have any specialized equipment like the XMark piece of equipment highlighted in this article, you can sit on a bench and grab a dumbbell (weight of your choice) and place them on your lap above each knee. At the same time, your feet are on a raised platform that I've mentioned previously. You simply raise and lower your feet flexing your muscles just as you would do when performing any calf exercise.
Olympic Barbell on Lap
This is pretty much the same as the previous exercise but this time you have an Olympic bar on your lap while seated. You raise and lower your feet flexing your calf muscles on top of the raised platform.
The difficult aspect of both the barbells and the Olympic bar scenario is placing the bar on your lap (can add weight or without lbs) or actually grabbing the barbells to place them on your lap. Believe me, I've tried both options until I opted to buy a specialized seated calf machine.
Seated Calf Machine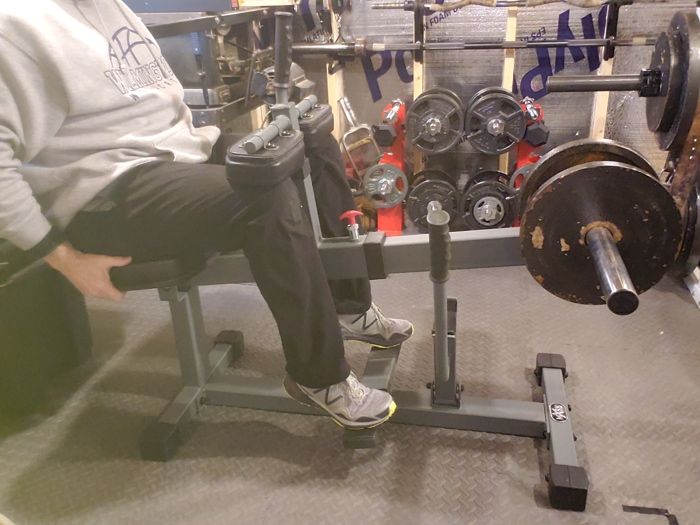 This is by far the best option. I purchased my calf machine on Amazon and, thus far, it is one of the best purchases I made for my home gym. I needed to find an option for my calf muscles that would directly hit the soleus (as mentioned above). Without a bent leg option, you're never going to thoroughly work your calves sufficiently. These machines are a must, as far as I'm concerned, in a home gym.
Seated Calf Raise Machine – Other Options
Comparison Table of X-Mark Calf Raise Machine with Two Comparable Seated Calf Raise Machines
The table below includes a comparison of the X-Mark Model XM-7613 seated calf raise machine with the Body-Solid Model GSCR349 seated calf raise machine and the Deltech Fitness seated calf raise machine Model DF805. All three of these seated calf machines are in the same class and roughly the same size or footprint.
Prices and Amazon ratings are stated below based on the date 8/27/2022.
Model →

Criteria
↓
X-Mark Seated Calf
Raise Machine
(Model XM-7613)
Body-Solid Seated Calf Raise
Machine
(Model GSCR349)
Deltech Fitness Seated
Calf Raise Machine
(Model DF805)
Cost:
$425
$799
$269
Material:
11-Gauge Steel
11-Gauge Steel
Steel
Length:
47.5″
47″
48.5″
Width:
22″
23″
24″
Item Weight:
80 Pounds
95 Pounds
66 Pounds
Types of Weights:
Standard and Olympic
Standard Only (must purchase Olympic adaptor separately)
Standard and Olympic
Amazon Review
Ratings:
4.6 out of 5
(335 ratings)
4.4 out of 5
(34 ratings)
4.6 out of 5
(115 ratings)
I've determined that the X-Mark Model XM-7613 is the best seated calf raise machine for a home gym because it is a much better value than either the Body-Solid Model GSCR349 or the Deltech Fitness Model DF805.
First of all, the most significant aspect is the price of the machine. It is comparably-built to the Body-Solid calf raise machine but it is selling for almost half the price giving the savings back to the consumer. The other drawback to the high-cost Body-Solid model is that you need to purchase separately an adaptor to use the calf raise machine with Olympic weights.
This will lead to an even greater outlay of cash for the Body-Solid machine. The Deltech Fitness model is cheaper than the X-Mark calf raise machine but it is also much lighter and does not use 11-gauge steel in its construction. As a result it is only 66 pounds vs the 80 pound solidly-built X-Mark model.
Summary – The Best Seated Calf Raise Machine for a Home Gym
My assertion that the X-Mark Seated Calf Raise Machine Model XM-7613 is the best calf machine for a home gym is based on a number of factors.
Heavy duty 11-gauge steel construction.
The small footprint is important for cramped space within a home gym.
Excellent value as far as cost is concerned for the home gym consumer.
The weight horns are compatible with standard (1″ hole) weights and Olympic weights allowing the consumer to utilize whatever weights they already own.
The X-Mark Model XM-7613 continues to get high Amazon ratings.
Frequently Asked Questions
Are Seated Calf Raises Necessary?
Well, this certainly depends on whether or not you care about the look and development of your calf muscles. If you want to properly develop them to their maximum capacity you will have to do some type of bent leg calf exercises. As has been mentioned numerous times in this article, bent leg calf raise exercises affect the soleus which is the largest muscle associated with this area of the leg. Without working this muscle you will never properly develop your calves.
Do Seated Calf Raises Work?
If you sufficiently work your calf muscles in a seated fashion utilizing either a piece of equipment like a seated calf machine or using the other options identified in this article, your calves will grow. This is assuming you are doing the exercises at least 3 times per week, in conjunction with standing calf raises, and performing a sufficient number of repetitions. Seated calf machines are available not only to large gyms but also at a lower price point for a home gym.
Which machine is best for calves?
There has been some scientific evidence that donkey calf raises may be the best exercise you can do for your calf muscles. There are at-home methods to emulate donkey calf raises but a specialized machine is recommended which is typically found at a gym. Specialized pieces of equipment or machines such as a standing calf machine and a seated calf machine are also recommended for muscle development. More often than not, a conjunction of standing and seated calves should be sufficient for substantial calf development.
Are seated calf raises bad?
There is no evidence that seated calf raises are bad for you. In fact, just the opposite. If you are utilizing equipment like the XMark Seated Calf Machine and not a knock-off at-home emulation of a seated calf raise, you will be performing a safe exercise for the development of your calf muscles. There are many machines made specifically for calves that can be found at a reasonable cost for a home workout.
What are the main exercises to develop my calves?
Standing and seated calf raises should be done in conjunction with each other during your calf workouts. You can either use machines or there are other options without purchasing a specialized machine. A standing and a seated bent leg calf exercise should be performed when you are working your calves.
As long as you are hitting both your gastrocnemius muscle (standing) and soleus muscle (seated), you will be working your lower leg sufficiently. This also assumes you are performing a sufficient number of repetitions leading to a burning sensation within your calf muscles. It is also important that you perform the raise and lower motion slowly pausing for a two count at the top and bottom of the motion.
Furnish your Home Gym with Quality Equipment
I've made some investments in top quality home gym equipment. Other than my seated calf machine detailed in this article, here are just a few of my other home gym purchases.
If you are into Olympic weights then you probably have at least 2 Olympic bars and probably a couple of curl bars. My Yes4All wall mounted barbell storage rack keeps my bars up and out of the way at all times.
If you are a lifter and have a gym at home or in your shed like I do, some type of dumbbell rack is a must. I purchased a FISUP dumbbell rack stand because it is a very small footprint and it fits well in my shed workout area. It will hold a limited amount of dumbbells but that's fine with me because I typically use dumbbell handles and build my own dumbbells when I need them.
If you do squats or bench presses on a regular basis you need something to hold the barbell loaded up with weights. I purchased a York Barbell Pro Series 204 Support that I use every day. It's one of my fundamental pieces of home gym equipment I could not do without.
A weight bench is another key piece of weightlifting equipment that you use for bench presses, inclined bench presses, and flys. I also use my York Barbell STS Flat-to-Incline Bench for seated dumbbell curls and lay against it when doing hip thrusts for my glutes.
All in all, you simply need to purchase some foundational pieces of workout equipment for a home gym.
Bob started his passion site, TotallyUniqueLife, back in 2009. The website is geared toward fitness, tips, DIY, life hacks, and reviews. Bob has been a fitness and weightlifting enthusiast for the past 50 years. He has also been passionate about woodworking and DIY over the years. He has been formally trained in woodworking at the Homestead Woodworking School in NH.
He enjoys sharing his knowledge of fitness, woodworking, and DIY on his website and YouTube channel with the same name – TotallyUniqueLife.