I've been lifting weights since I've been a teenager and I'm almost 60 years old. My wrists have taken a toll over the years so, in recent years, I've always used wrist wraps. Well, the thumb strap on the ones that I had been using for years ripped on me so I started searching on Amazon for a really good brand with good reviews.
Weightlifting Wrist Wraps – Various Styles and Colors
I came across a brand called Rip Toned Wrist Wraps and what I really liked about what I saw was that there were many different wrist wraps lifting styles including varying levels of stiffness of the wrist wraps. I counted 11 different weight lifting wrist wraps types from which I could choose. The model I decided to purchase were the Green Chamo Less Stiff that you will see below in my youTube video and in the images.(Don't miss my youTube Video below and images with dimensions).
I really like the chamo look and the less stiff option gives me a bit more flexibility in the wrist area but they still have plenty of wrist support for lifting. I actually think the stiff version may be a little too rigid for my liking but I've never tried the stiff version so I cannot say for sure. All I know is that the less stiff style that I purchased is a perfect rigidity for me.
Another must-have that I looked for in a wrist wrap was the thumb strap because I have always used wrist wraps with a thumb strap. I like the thumb strap because it feels a lot more secure on my wrists with the thumb strap and they are a lot easier to put on your wrists. If you try a wrist strap without the thumb strap and then with the thumb strap you will see what I mean.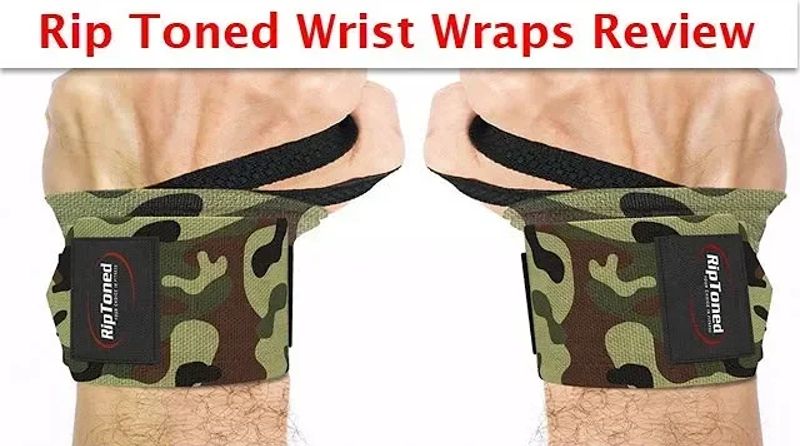 Wrist Wraps Lifting Images Below
Rip Toned Weightlifting Wrist Wraps Dimensions
Rip Toned Wrist Wraps will Keep you Safe While Lifting
We all want to stay safe in any aspect of our lives, at least I certainly want to. Weight lifting wrist wraps like the ones from Rip Toned detailed in this article have allowed me to lift without worrying about injuring my wrists. As you get older any additional wrist support for lifting can prolong and benefit your workouts.
I have purchased multiple sets of these weightlifting wrist wraps as gifts for others in my family who like to lift weights as a part of their regular workout routine. I wouldn't buy any other brand. I use them in my furnished shed workout area. My latest purchase in my lifting arsenal is the best seated calf raise machine for a home gym.
If you too could use the wrist support supplied by the Rip Toned Wrist Wraps, they are a great buy ($11 for the set) for a high quality item. I've used them now for a couple of months and have zero complaints!
If you have any questions or comments you can leave them in the comments below or use my Contact Me page.
Bob started his passion site, TotallyUniqueLife, back in 2009. The website is geared toward fitness, tips, DIY, life hacks, and reviews. Bob has been a fitness and weightlifting enthusiast for the past 50 years. He has also been passionate about woodworking and DIY over the years. He has been formally trained in woodworking at the Homestead Woodworking School in NH.
He enjoys sharing his knowledge of fitness, woodworking, and DIY on his website and YouTube channel with the same name – TotallyUniqueLife.