Anyone who has their own home gym and is into weight lifting at all, probably has a few Olympic bars hanging around which aren't properly stored. That was my problem before I bought and assembled the Yes4All Wall Mounted Barbell Rack. My workout area is in my heated shed so I have not only workout stuff in there but also my woodworking equipment, a generator, and many other household items I need to store. (Don't miss my youTube video below!)
Wall Mounted Barbell Rack from Yes4All in my Home Gym
I am always looking for ways I can organize and furnish my workout area of my shed. My latest addition to my workout area is my XMark seated calf raise machine. I did have a number of Olympic bars just hanging around in the shed without a real home.
I found the Yes4All Wall Mounted Barbell Rack online and read a bunch of the reviews which showed images of people's home gyms and their barbells hanging on the walls. This barbell storage rack just looked so slick and professional and I knew right then and there I wanted one.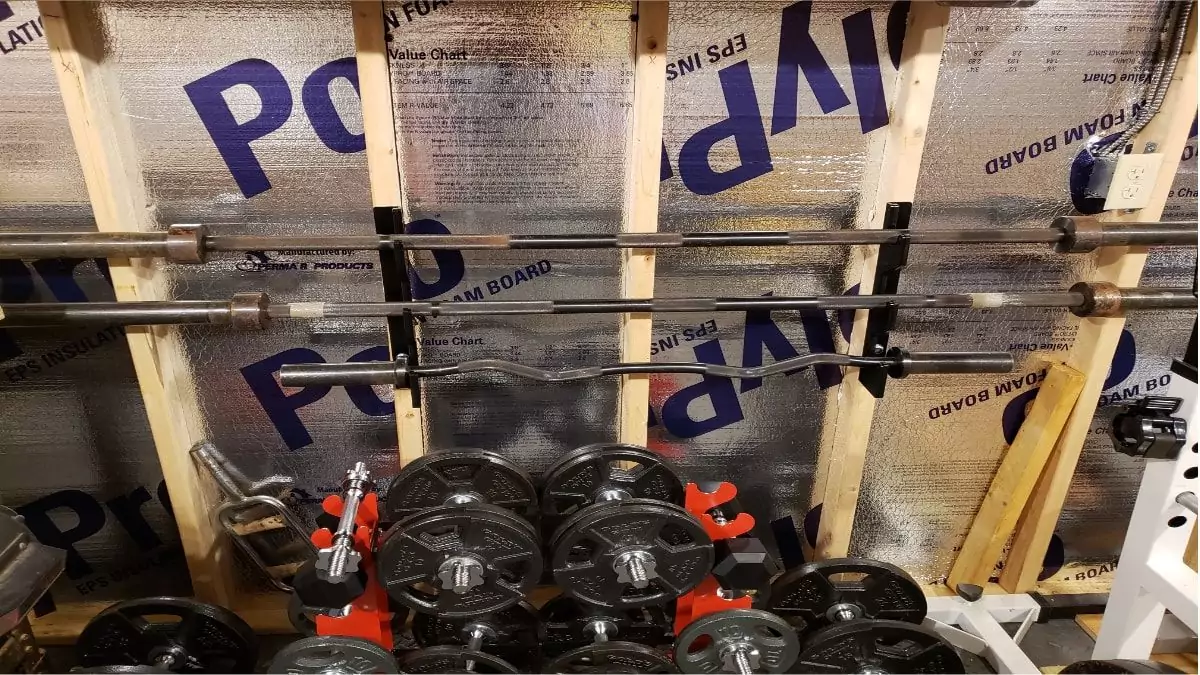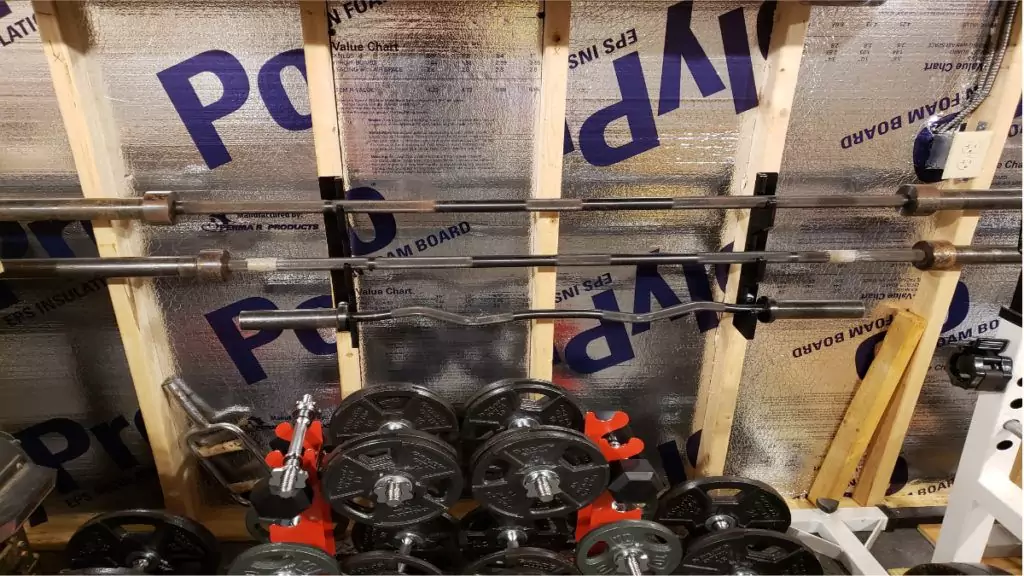 So I bit the bullet and purchased a Yes4All Wall Mounted Barbell Rack for $38.25 for one pair of racks. You can get 2 pair for a discount at $62.54 so if you think you could use another set getting the 2 pair might make sense. I recently unboxed and installed the pair that I received and created a youTube video.
I was fortunate in that my shed has exposed studs instead of having to install this rack over drywall. I guess if you have a home gym with drywall you will have to use a stud finder to get the exact center of the stud for mounting purposes.
They weren't too difficult to install but you might want to have a socket set available for ratcheting in the hex-headed lag screws. If I didn't have to film the process for my video, I would guesstimate it took me about 30 minutes for the complete install ensuring that everything was level.
Barbell Wall Rack Features
Save Space & Keep Bars Organized: Organize your barbells which will always available when you need them. Adds a professionalism to your workout area.
Heavy Steel Construction: No more concerns about falling bars. The barbell rack storage is constructed of 7-gauge steel for the most durable barbell rack you can find. Steel bar rack is covered with black powder finish to prevent rust & corrosion.
Protective UHMW Protective Layer: Provide the UHMW plastic pad to protect your barbell's sharp knurling and shaft finish from wear & scratches even when you rack and unrack the barbell multiple times during a workout.
Versatile Barbell Rack: Designed to give ample space and fits most of the barbells including Olympic/standard bars.
Easy Installation: With the proper tools (socket set worked well for me), the installation can be quick. If you already have drywall on your walls you must identify your studs properly. A stud finder should work well to that end.
Wall Mounted Barbell Rack Unboxing and Assembly Video
Check out my youTube video below. Click on the image below or the caption to see the video.
If you think you could use a Yes4All Wall Mounted Barbell Rack in your workout area or home gym, take it from me, it's a great addition for me and I think it might be for you as well.
I love this barbell wall rack but this is just one of the many pieces of equipment I have in my shed gym. I also have a York STS Flat-to-Incline Bench, a York Pro Series Barbell Support, a Fisup Dumbbell Rack, and of course my new XMark Seated Calf Machine as I mentioned above. And I never forget to wear my Rip Toned Wrist Wraps whenever I am lifting.
Wall Mounted Barbell Rack from Yes4All Summary
I've used my barbell wall rack for about a year now and it is one of the best purchases I have made. It's solid wall mount barbell rack and it was a very reasonable purchase. Instead of my bars strewn throughout my home gym they're now tucked away on my wall when I need them.
Whatever you do, always try to buy high quality workout equipment for your home workout area. It will pay off in the long run and it will be the best money you could ever invest in your own health.
Bob started his passion site, TotallyUniqueLife, back in 2009. The website is geared toward fitness, tips, DIY, life hacks, and reviews. Bob has been a fitness and weightlifting enthusiast for the past 50 years. He has also been passionate about woodworking and DIY over the years. He has been formally trained in woodworking at the Homestead Woodworking School in NH.
He enjoys sharing his knowledge of fitness, woodworking, and DIY on his website and YouTube channel with the same name – TotallyUniqueLife.