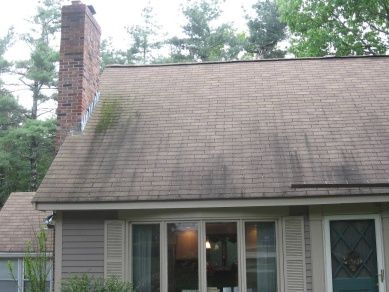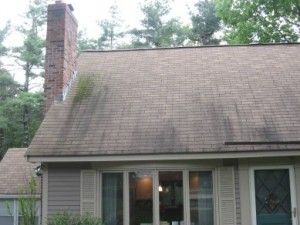 This blog is geared toward practical solutions like creating a squirrel proof bird house, fashioning an under deck water drainage system, or insulating shed doors. Well, I have another one, a roof cleaning solution, for you with this article.
We had a new roof done on our house approximately ten years ago and, for a long time, it looked great. As the years went by, it started developing streaks and black mold on the roof shingles on the shady side of the house.
Understandably, I was concerned that we'd have to have our roof replaced. Up to this point, I hadn't really heard of roof cleaning services. The most unnerving thing was that we were told that it should last at least 20 years. So, I made it a point to start looking at other houses in my town and I saw roof mold, roof stains, and roof algae on many homes. I remember distinctly, as we backed out of our driveway one day, my eldest daughter exclaimed, "Our roof looks horrible!" And I agreed, wholeheartedly.
How to Remove Mold
So, I made it my mission to start doing my research on how to get rid of black mold on my roof. I discovered that the build-up of dirt, mildew, black mold, fungus, and moss is prevalent especially on the roof on the shady side of a house. I also discovered that there is a product for roof cleaning called Shingle Shield Roof and Deck Cleaner that, when applied with a pump sprayer, and hosed off, will remove these streaks from your roof.
Now the big problem was, to remove these streaks, you had to apply the diluted solution of the roof cleaner, directly to the roof! And it basically required you to get onto your roof. My wife had no desire to become a widow, so I ended up calling my chimney professional that cleans my chimney once a year.
He really didn't know about the product and I thought that this could be another source of revenue for him. He was interested in doing the job, so I purchased the product online and set up an appointment for him to apply the product to my roof.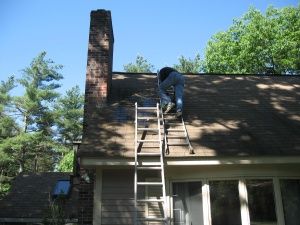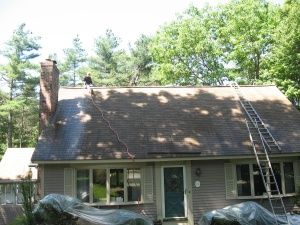 He had the proper ladders to get up to the roof and had a special roof ladder that hooked over the ridge of the roof. Prior to heading onto the roof we made it a point to cover all the bushes with plastic, even though the product is advertised as being non-toxic to plants. I just thought it would make sense to cover them, just in case.
He then applied the product with a pump sprayer directly onto the streaks first. Then he applied the solution to the whole roof by moving his roof ladder along the face of the roof.
After applying the solution to the whole roof, I handed him the lawn hose and he went up to the ridge of the house and sprayed off the solution with the garden hose. He simply moved from one side of the roof to the other and thoroughly hosed down the roof. You could see the stains disappear almost immediately.
After doing the initial application, you may have to go over individual streaks with a soft brush to get the really dark streaks totally removed. Cleaning roof mold takes some work and elbow grease if you want it entirely off of your roof.
How to Get Rid of Mold Forever
One final step, if you do not want these streaks to return, is to have your roofing specialist apply zinc strips under the shingles at the ridgeline of your roof. This should prevent the black mold and fungus from returning over time. You can find these zinc strips on the website mentioned earlier in the post. As you can see from the before and after photos below, this stuff works! (Please check the updated photo of how it looks two years later.)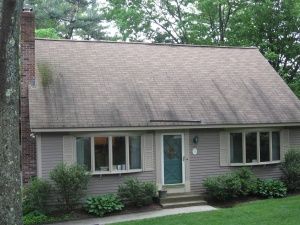 Instead of paying big bucks for a new roof, consider roof cleaning products and give your roof a makeover. For a few hundred dollars you'll be able to look at your house with pride again.
(Updated on August 21st, 2011)
This is how my roof still looks more than two years after the roof cleaning and the zinc strips were applied! There are still no signs of black mold or green fungus. This was one of the smartest home upgrades I ever did to my house and the cost was minimal.
Now when I drive around other neighborhoods in my town where there are houses much bigger than mine, I am even more proud of my roof cleaning project. It is amazing to me how ugly even the most contemporary houses look when their roofs have black, green, and even purple streaks. If you have a similar problem, look into roof cleaning in your area. The green fungus and black mold on your roof will just be a distant memory!
Bob started his passion site, TotallyUniqueLife, back in 2009. The website is geared toward fitness, tips, DIY, life hacks, and reviews. Bob has been a fitness and weightlifting enthusiast for the past 50 years. He has also been passionate about woodworking and DIY over the years. He has been formally trained in woodworking at the Homestead Woodworking School in NH.
He enjoys sharing his knowledge of fitness, woodworking, and DIY on his website and YouTube channel with the same name – TotallyUniqueLife.