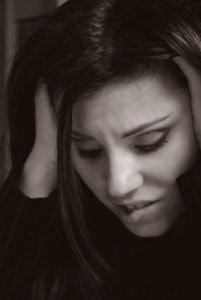 In late January of 2011 the NY Times published an article entitled "Record Level of Stress Found in College Freshmen". They cite a number of factors including more pressure to perform in the later years of high school as well as the state of the economy. The study involved responses from more than 200,000 incoming freshmen at four-year colleges. Also, it is interesting to note that in the article campus counselors echo what is being shown in the survey. They are seeing more and more depressed students with high anxiety levels and a large majority of these students are entering college already using psychiatric medication. Overcoming anxiety levels require strategies that are touched upon later in this article.
The study mentions that not only is the economy stressing out the parents who may have either lost their jobs or have had to take salary reductions, but the students are concerned about their own college debt and prospects for getting a job when they graduate.
In the NY Times article, Brian Van Brunt, director of counseling at Western Kentucky University and president of the American College Counseling Association had this to say about the emotional state of college freshmen.
"More students are arriving on campus with problems, needing support, and today's economic factors are putting a lot of extra stress on college students, as they look at their loans and wonder if there will be a career waiting for them on the other side."
At Bowdoin College in Brunswick, Maine, the Director of the Counseling Service and Wellness Program Bernie Hershberger had this to say about stress and students in a recent article in the school newspaper, the Bowdoin Orient.
"The overriding thing that we deal with, with students, is more anxiety-related conditions. Stress and anxiety easily consume about 60 percent of issues and concerns that we help students with."
To be perfectly frank, it doesn't surprise me at all. As a parent of a high school sophomore and a college sophomore, I have certainly witnessed the levels of stress and pressure facing, in particular, high-achieving high school students. My high school daughter's schedule includes seven courses per semester and most of them are honors courses. The amount of work that is heaped on her is alarming, her organizational skills have to be impeccable, and her time is extremely limited. So it is not at all surprising to me that incoming freshmen are experiencing high levels of anxiety. It is simply a continuation of their high school pressures that are now transformed into a college setting.
So what can be done for overcoming anxiety levels seen in college students?
Raise Awareness
At Bowdoin College a campus club called Active Minds was formed in hopes of combating social stigmas about mental health. The idea is to raise awareness about mental health by inviting mental health professionals to the campus to address students about such issues. Simply the act of addressing the issue is valuable to students who are facing a different kind of emotional pressure in the college setting.
Diet
High caffeine intake is prevalent in college students. Caffeine can come in many forms including coffee, hot chocolate, tea, and the all-too popular energy drinks that have seemed to explode onto the scene in recent years. There has even been an influx of alcoholic caffeinated drinks on campuses, such as Four Loko, that are now being banned by the Food and Drug Administration. Excessive levels of caffeine can add to the already stressed psyche of the college student. In recent years colleges have begun to focus on the quality of the meals that they are serving to their students.
The quality of the dining experience is clearly becoming a factor when a prospective student has to decide between comparable colleges. The Princeton Review, a website that is known for helping students prepare for standardized tests also ranks colleges, in their college guide, based on various metrics. One of those metrics is "Best Campus Food" and Bowdoin College in Maine ranked #1 for 2010 in this category. Scott Meikeljohn, Dean of Admissions and Financial Aid at Bowdoin, in a recent article admits that a high-ranking gives their school a competitive advantage over other colleges in their class.
"If so many people do a college search on 'top 10', then it's great we're showing up. We don't promote [rankings], but we do benefit from them."
Mary Kennedy, Director of Dining and Bookstore Services at Bowdoin, points to the quality of the campus food at Bowdoin as being an important factor when it comes to the well-being of the students.
"Dining is an integral part of the residential experience of the campus and we feel respected and supported by the Bowdoin community," she said. "It's important to me that the food and the atmosphere in Dining contributes to students' health and well-being so that they can do their best academically."
College Prowler, a website geared at reviewing and comparing different colleges, ranks Campus Dining as one of the all-important metrics that matter to students. The quality of the meals that a college student eats on a regular basis can be a big factor when it comes to influencing anxiety levels.
Exercise
Working out regularly is one of the best ways to lower stress levels in college students. Students should take advantage of the facilities that the college has to offer. Yoga, aerobic, and step classes all can be used effectively to combat the stress that college students face on a regular basis. Adding a class or a workout session to your daily calendar, much like an added course but without the stress, will make it part of your daily routine.
Get Involved
Student clubs are on the rise on college campuses. There are clubs ranging from intramural sports to drama clubs to clubs promoting green living. Colby College, another Maine Liberal Arts college boasts an Environmental Studies Club and an Organic Gardening Club. Bates College in Maine advertises that the college has 110 recognized organizations formed by students which allow Batesies to pursue interests with other like-minded students. Getting involved in clubs is a way for the student to feel part of the college community by meeting new friends and thereby reducing anxiety levels. And, at the same time, they are adding to their emotional well-being. Taking part in the student experience is one big step in the right direction for anyone entering the college scene for the first time.
Stay connected
One important stress factor for college students, especially new students, is being separated from their comfort zone which is their home and family for the first time. If you are a parent, one simple way to stay connected with your child is to utilize the fairly recent method of communication called texting. I understand that texting is not everyone's cup of tea, particularly older parents, but it is one of the better methods of communication with your college student. Why? It's more indirect than a phone call. Your son or daughter can respond immediately or later. But the comforting aspect to the parent is that there is a sense that the student will immediately receive the text. Unlike email which may have a time lag between when the parent sends the email to when the student accesses their email account.
Another great aspect about texting is that the student can receive and respond to a text at the library, a
rehearsal, in the dining hall, studying in a student center, or in a meeting without annoying anyone around them. I've learned to appreciate texting and I'm actually surprised I'm saying that. Staying connected with your college student via texting is mutually beneficial and helps to alleviate separation anxiety in both the parent and the student.
Anxiety levels are a very real concern for college students and overcoming anxiety should be a priority. Leaving a rigorous high school pressure-filled environment and entering a foreign college campus setting can be trying to the new college student. Their organizational skills are lacking and they are trying to fit into a totally foreign environment. Taking the proper precautions to alleviate the stress seen in college students can only lead to a happier, healthier, and wiser educational experience.
Please subscribe to my blog using the RSS link or email updates,follow me on Twitter, or on Pinterest.
If you enjoyed this post please click on one of the icons below and share the love.