This is a guest post by Jennifer Avery. If you'd like to guest post on this blog, click here.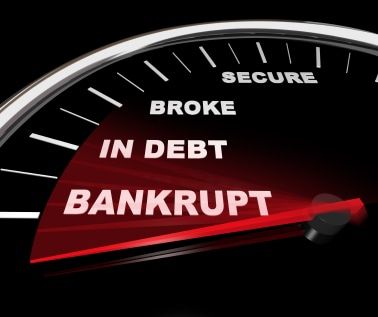 A common misconception people have about filing for bankruptcy is the idea that filing for one means being able to start over again with a clean slate; however, this will not necessarily be the case. A bankruptcy will appear on a credit report and remain there for at least seven years.
Every time a company does a credit check, they will know that there has been a bankruptcy, and this can affect lending decisions or amounts. To minimize the fallout from bankruptcy, you can follow these five steps and help yourself take the right financial step forward to repair your credit after bankruptcy.
1. After Filing for Bankruptcy Create a Positive Credit History
You will need to improve your credit score and acquire positive entries on your credit reports, and you can do this by obtaining credit that you repay before it is due. This will lead to positive entries on your credit report and your credit score will begin to increase. Avoid opening up a new credit card. Instead, try to make payments on existing credits cards, or loans, that you have set up. Once payments are made, it is necessary that you continue building your credit. You can do this by making small purchases with a store credit card, and making all payments ahead of time.
2. Begin to Pay Bills on Time
The second thing to do is pay all of your bills on time. You, of course, will want to repay the credit that will be extended to you promptly, but you also will not want to miss or make a late payment for any of your other debts. This includes your cell phone bills, utility bills, insurance payments, and any loan payments they may need to make.
Not every one of these types of creditors will report to the major credit bureaus, but some do, and after filing for bankruptcy you do not want to show that you still have not learned how to manage money.
3. Start to Save Money
The third thing that you will want to do is start saving money. If you open a savings account and demonstrate that you are saving money, this will show lenders and other potential creditors that you are beginning to live a responsible financial life.
4. Maintain Steady Employment
The fourth action that you can take after filing for bankruptcy is to obtain steady employment. Many people fall into debt after losing their jobs, but maintaining steady employment ensures that you will be able to pay your bills, and it shows that you are beginning to live stable lives.
One of the latest trends is for employers to do a credit check on prospective employees. The belief is that people with higher credit scores are living responsible lives and will be responsible employees as well. Those who have filed for bankruptcy must be aware that a lower credit score may limit their chances for finding a good job. However, once they do find a job, they will want to be sure that they keep it.
5. Refrain from Frequent Moves
Another way for people to show that they are in a stable living situation is to remain in one place for a good period of time. Those who have filed for bankruptcy may find this to be difficult at first because landlords also do credit checks before deciding to rent to someone. While filing for bankruptcy can stay on a credit report for 7 years, after diligently working to improve you credit score, you may become eligible for a mortgage again in as little as one year.
The most important change you can make in your life after filing for bankruptcy is in your spending habits. The best way to avoid the problem again is by making smarter financial decisions. Try taking a class on budgeting, or meet with a financial advisor; start tracking your purchases and being better about saving. While it's hard to build your credit back up, it is not impossible, and the best way to come back after a bankruptcy is by learning from your mistakes.
This guest article was written by Jennifer Avery who is a personal finance blogger writing on behalf of Kel Credit Repair.
Please subscribe to my blog using the RSS link or email updates,follow me on Twitter, or on Pinterest.
If you enjoyed this post please click on one of the icons below and share the love.