This is a guest post by Melissa Crossman. If you'd like to guest post on this blog, click here.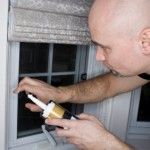 When I bought my house it was still warm outside. I don't think it's bad to purchase real estate when the weather is pleasant; in fact, it's nice to be fully nested before the chillier season draws close. However, this is my first home and I did not even think about heating it for the winter.
Unfortunately, my beautiful, romantic, cozy little abode would be less drafty if it were made of sticks. I love my house and I'm in it for the long haul, but I don't want to freeze to death. So, a respectful blend of love and survival instincts has made me get creative with how to heat my household. Just jacking-up the thermostat isn't enough.
I don't have the money to heat every inch of my home and, frankly, I don't think the furnace could even handle it. If you are a homeowner also caught between a rock and a cold place then follow these DIY tips to winterize your home and to help keep it cozy in the winter months.
Zone Heating
Don't think of your house as a giant box that needs to be evenly heated, because it isn't. There are areas that don't need to be nearly warm as others. Space heaters are perfect for adding that added bit of warmth to the most needed areas. I have heaters in my bathroom, beside my couch and in my bedroom. I choose to not add additional heat to the kitchen because 1) I don't cook naked and 2) the appliances in the kitchen generate a lot of heat themselves. I also don't have heaters near any entryways or the dining room. My most valued heater is in the bathroom because I DO go in there naked and all the porcelain surfaces really make you feel the chill.
Bag Pipes
Wrapping your water heater in a blanket is a pretty familiar winterizing technique, but many people don't think about the pipes. Covers for these can be found at pretty much any hardware store and installing them is as easy as putting a hotdog in a bun. These barriers will keep your water from getting cold as soon as it leaves the water heater. This means you use less water and energy waiting for it to heat-up, which means your bills are less, which means you can invest that money into some nice wool socks or a bottle of wine (better known "keep warm" devices).
Draft Police
There are drafts in your home. Whenever you feel a slight air current or even just a cold spot don't let it go. Hunt that draft down like the money waster it is. Drafts are especially prominent around doors, windows and anywhere that pipes or cables enter/leave the house. Tour your home (inside and out) with a caulk gun and fill any cracks that you see along windows or door jams. Use a draft snake under each exterior door. Putting plastic over your windows also helps keep heat in and cold out.
Taking some simple steps to winterize your home will not only keep it cozy in the cold months but will also save you some money at the same time.
This guest article was written by Melissa Crossman. Melissa is a first-time homeowner who blogs for Sears and other deserving brands. She enjoys running and eating pie next to her space heater. Melissa does not like winter.