Given the tragic circumstances surrounding Haiti, and the devastation in that area, there has understandably been a huge outpouring of support for those poor people.  Unfortunately, one of my co-workers grew up in Haiti, and he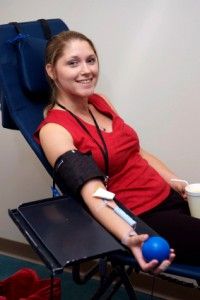 still has family over there.  The support he has received at my work has been uplifting to him and his family.  At a time like this, it is not unusual to think seriously about how you can help out your fellow man.  Giving blood is a way you can do just that…
For the first 50 years of my life I had never given blood.  When my eldest daughter turned 17, she was eligible in our state, to give blood.  Without hesitation, she decided to donate.  I was intrigued by the fact that she decided to do this, given that neither I, nor my wife, had given blood in the past.  She simply wanted to help out her fellow
man and this was a substantive way for her to do so.  She didn't have any money, but she did have something she could give that was more valuable.
Seeing how generous she had been, I decided, at the ripe age of 50, to give my first donation.  The fact that I waited this long to donate, was not for any particular reason.  I am not afraid of needles, and I don't have any pre-existing conditions that would prevent me from donating.  I can't really explain why I waited so long.  All I can say is that my eldest daughter inspired me to go make that first blood donation.  So, what are the benefits, you may ask?
You may help as many as three people with one donation.

This is the #1 aspect of giving blood that the Red Cross mentions in their literature.  Heck, if my blood helped out one person who needs it, that would be good enough for me.
You'll get to spend some time with quality people.
Having given blood now on three occasions, you start seeing some of the same people at the donation center.  The volunteers tend to be elderly people who have been doing this for a very long time.  They are sweet people who like to socialize, and, at the same time, they also do their best to put people at ease, if needed.  The fellow donors will strike up a conversation at the drop of a hat, as you all wait to be called to donate.  It is a feeling of camaraderie that is not typically felt with strangers.  Then again, these people are not truly strangers.  They are fellow human beings doing something for a common cause; helping others.
You get free food!
At the donation center there is always a myriad of juices, bottled water, cookies, pretzels, etc.  It is important to replenish yourself after you donate, and to hydrate before and after.  Since I donate after work, there has always
been a meal served by the volunteers.  The last time I donated there was a full spaghetti dinner with sausages, meatballs, and rolls for the donors.  You get to sit with other donors and volunteers and socialize while you eat your meal.  It's a great ending to a very gratifying experience.
You feel great afterwards.
Being around like-minded people, and doing something for your fellow man, is very fulfilling.  Even if you went into this with second thoughts, you will leave happy and content that you just did something so selfless.
If you have never given blood before, I urge you to consider it.  Go to the Red Cross Donating Blood website and learn more about how you can reach out and help your fellow man.
[note]Special Note from the RedCrossBlood.org website.
The American Red Cross is responding to the tragic earthquake in Haiti by providing first aid, food and water, emotional support and emergency relief supplies. The American Red Cross is providing blood and blood products this week at the request of the Pan American Health Organization (PAHO) and will coordinate future requests for blood among its blood collector partners.
Red Cross Blood Services continues to meet the needs of this tragedy from our existing blood supply. At this time, we do not anticipate the need for a general donor appeal, but there is an urgent need for eligible donors with Type O negative blood to schedule a blood donation appointment as soon as possible. Type O negative blood is universal and can be given to anyone, regardless of their blood type and is often used in emergency situations. Blood donors are encouraged to call 1-800-RED CROSS.[/note]
Please subscribe to my blog using the RSS link or email updates and follow me on Twitter.
If you enjoyed this post please click on one of the icons below and share the love.