This is a guest post by Peter Joseph. If you'd like to guest post on this blog, click here.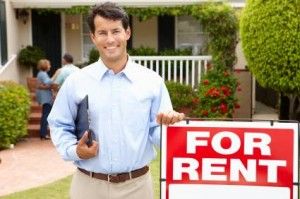 Recent years have seen the US and UK property market in a state of disarray, and while property prices have fallen, the availability of mortgages has fallen with it. In an attempt to battle these circumstances, home owners are either improving property instead of moving, or renting out their properties in order to sustain their place on the market whilst easing their money worries.
The rental market is a competitive business and properties will need to be up to scratch in order to secure an ideal tenant as well as the ideal rental value. It is a common misconception that landlords would need to spend thousands to prepare their property before advertising property to rent, however this is not always the case, and here are 8 home improvements to consider.
1. Painting is a Priority
Repainting the property is a simple and cost-effective home improvement that can make the world of difference to its look and feel. Painting the outside will enhance curb appeal and interior painting is even more of a priority. Obviously you should paint walls and ceilings, but don't forget to concentrate on those often forgotten areas like skirting boards, banisters and window frames, leaving the property fresh and clean.
2. Focus on the Floor
Flooring is one of the most important aspects of rental properties and can have a direct impact on the rental value. Most landlords opt for hard flooring these days such as wood, laminate, or linoleum. Hard flooring is great for the most social rooms of the house as these are long-lasting, cost-effective, and incorporate a modern feel into the home. There is not always the need to purchase new carpet, but a thorough professional deep cleaning of the carpets will certainly be required before advertising property to rent.
3. Renters Love Energy Efficiency
We live in an increasingly green world and everyone should be contributing their efforts into reducing carbon footprints. This applies to rental properties too. Making the home energy efficient will not only fulfill a duty of being Eco-friendly, but the tenants will save money on their utility bills. Replacing old boilers is one of the most common improvements in this category, as well as insulation, draft- proofing, using energy saving light bulbs, and having double-paned windows throughout.
4. Make the Bathrooms Brilliant
The bathroom is a pivotal place in the home, and a clean and welcoming environment is essential to secure the maximum revenue for the rental. If there is an outdated bathroom it will inevitably need remodeling. Making finishing touches like re-grouting and re-sealing will rejuvenate this room and be of acceptable standard before advertising the property for rent.
5. Cool Kitchens
While it is not necessary to provide the most contemporary kitchens in rental, it is however necessary to offer a clean, fully working and presentable kitchen area. This room is statistically the busiest room in the house, the social hub if you will, and it will need to bear the brunt of continued use. Tiling, appliances, worktops and storage space are all things to address in this area, as well as the use of space. Perhaps a re-model is in order to rearrange the kitchen in a way that can be enjoyed by family living, allowing a table and chairs to be incorporated for those all important dinner parties!
6. Great Gardens
Outside space is just as important as internal space, and although the sun makes an appearance for only what seems a couple of weeks each year, as soon as it's out the tenants will want to make absolute use of the garden. Low maintenance gardens are always a winner for both the landlord and tenant. Potted plants, perhaps decked or patio areas, and simple design can transform the presentation of a rental property.
7. Liveable Lofts
If a rental property really lacks in space, there is always the option to renovate the loft space into another useable room. This may be a little more on the costly side, but the direct impact it can have on the property should see the investment return in no time. In such circumstances remember that this option will take away any available hidden storage space, so make use of the eaves and ensure that the property as a whole has adequate storage.
8. Open Floor Plan
In a society that increasingly entertains at home, creating an open floor plan space in a rental property can be a real eye-opener. Traditional terraced properties may suffer from 2-3 closed reception rooms, detaching the 'social' feel from the house. Knock down these walls (with professional advice of course!) and generate an open and more spacious feel to the property, as well as potentially adding value to the property.
Simple, yet effective home improvement tips will more often than not be necessary to carry out before advertising property to rent. However is does not need to break the bank and it is certainly worth the investment. The only trouble you may find is that after the improvements have taken place, you may want to live in this fresh new property yourself!
This guest article was written by Peter Joseph who has had a wealth of entrepreneurial experience under his belt and landed in the Estate Agency industry with the intention of blending a top class service, powerful property portals and affordable prices. The website iThink Property was born – one of the UK's top sites to sell and advertise property to rent.