This is a guest post by Linda Bailey. If you'd like to guest post on this blog, click here.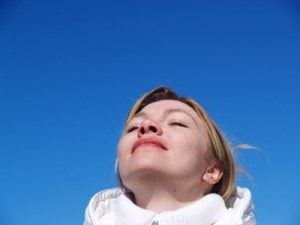 Whether you are asthmatic or not, sometimes you can have a hard time breathing in your own home.
While dust can be one of the major culprits of your ability to breathe easily, sometimes your problems could be caused by various chemicals that can get trapped within the dust itself.
Regardless of your reasons, there are ways you can clean your home to help you breathe easier.
1. Your Floors
It's quite easy for your floors to accumulate a great deal of dust and particles throughout the day. Depending on where you live, this could be a daily chore for you. Using products like a Swiffer pad in your kitchen and other hardwood floors can be a quick and easy way to collect the dust and dirt instead of committing to the full chore of mopping your floors. For carpeted areas, HEPA filter vacuums can reduce the dust that is shot back into the air when you're cleaning. Making sure your thresholds at your doors are in good shape will keep the dust and dirt from blowing into the house as well.
2. HVAC Systems
Whether it is the air conditioner in the summer or the heating system in the winter, you could be circulating dust and other particulates throughout the house in great quantities.
Make sure that you regularly clean any filters and duct work in order to reduce the spreading of this nuisance. If your systems require replacement of these filters, do so regularly in order to keep the air quality improved within the home.
3. Ventilation
Opening the windows while you clean can help ventilate the air throughout the house while decreasing the home's natural humidity levels. High humidity can increase the growth and spreading of mold spores which can cause breathing problems in anyone and especially asthmatics. Allergic reactions to these mold spores can cause everything from wheezing to hospitalization due to violent reactions.
4. Fragrance-Free
Many people react differently to the fresh smells of the rainforest in the laundry. While some may think it's a wondrous fragrance, others may immediately begin feeling the effects of an asthma attack. Invest in fragrance-free cleaning solutions in order to reduce the volatile organic compounds that are dispersed when using these materials. Besides, you might find that a natural smell is more preferable to your eyes watering up every time you put on that winter sweater.
5. Cleaning Supplies
Store your cleaning supplies in an area that won't interfere with your breathing. You could be allergic to these chemicals in specific quantities and don't need to breathe in the fumes that could be produced. Many people will store these chemicals under the sink, but you could store them in a closet or in the basement if you are still bothered by the chemicals.
There are many products you can buy to improve the quality of the air in your home, but many of these are more expensive than you may like. Ionizers and air purifying systems do a decent job of keeping dust, pollens and particulates in your home low, but keeping your house as clean as possible will do a better job than these devices can do on their own.
This guest article was written by Linda Bailey from housekeeping.org. She is a Texas-based writer who loves to write on the topics of housekeeping, green living, home décor, and more.
Please subscribe to my blog using the RSS link or email updates,follow me on Twitter, or on Pinterest.
If you enjoyed this post please click on one of the icons below and share the love.