This is a guest post by JT Ripton. If you'd like to guest post on this blog, click here.
Buying a reliable used car on a budget can present several challenges. When you focus on the cars that have reputations for long lives and low prices, you will increase the chance that you drive away with a winner.
2009 Pontiac Vibe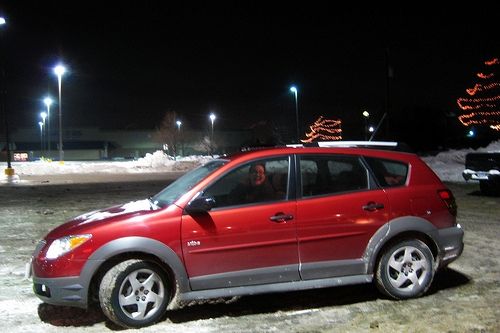 Pontiac went out of business in 2011, but the 2009 Pontiac Vibe is still a great buy. The company's demise means that its cars have fallen in financial value even though auto stores still keep parts in stock.
The company failed, but the Vibe keeps going strong. Consumer Reports named this 2009 Pontiac as the best small car under $10,000. It also compares the Vibe to the Toyota Matrix, which costs more money. Since you can get all the features and reliability of the Matrix while spending less money, you definitely need to keep the 2009 Vibe on your short list.
2011 Honda Fit
It's hard to go wrong with the 2011 Honda Fit. This small wagon offers the features that everyone from a family to a bachelor could want, including:
Great fuel efficiency (30 mpg with an automatic transmission)
Agile handling
An interior design with plenty of room
[sc:link_unit_left]
The 2011 Fit is both fun and practical. It may cost a little more than the 2009 Pontiac Vibe though. Expect to spend between $10,000 and $15,000, depending on the car's condition, where you live, and other factors. You can always use True Car to help you decide whether the price is fair. True Car gives you no-nonsense pricing information, including price trends for the last several months so you can decide whether now is the right time to buy. Armed with this info, you can get the lowest price from a dealer.
2009 Honda CR-V
Drivers who want a big vehicle should consider the 2009 Honda CR-V. More recent models also get high reliability ratings, but going back to 2009 means you can often buy this vehicle for around $10,000. That's an exceptional deal when you consider that many of the CR-Vs have:
All-wheel drive or front-wheel drive
A 166-horsepower engine
Abundant interior space for passengers
If you get a deluxe EX-L version, you can even expect to enjoy heated leather seats and other luxury features.
2007 Toyota Highlander
[sc:medium_rectangle_adsense_right]
For drivers who want a large SUV, it's still hard to beat the 2007 Toyota Highlander. If you can find one for sale, choose the V6 option. It will give you more than enough power while only drinking a gallon of gas for every 19 miles you drive. 19 MPG is pretty good for a V6 SUV.
The Highlander also has plenty of interior space that will make family trips more relaxing. There are also versions of the Highlander that have a third row of seats. If you want more room, look for that option.
There are a lot of dependable, affordable cars out there right now; it's impossible to mention them all. Do you often find yourself wishing that you had held on to a car that you owned several years ago? What made it such a great car?
This guest article was written by JT Ripton who is a Graduate from USF in Tampa and a Freelance writer on a myriad of subjects that interest him. JT likes to write to inform and intrigue and you can follow him on twitter @JTRipton.