I started blogging last summer.  At the time I didn't know much at all about blogging or blogging platforms, for that matter.  So I took the advice of someone and decided to use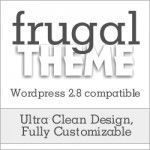 Squarespace as my platform and host.  Little did I know that the vast majority of bloggers in this world use WordPress and now I understand the reasons why.
This week I will be moving to WordPress so there will be a slight pause in my blogging.  When I do switch my first post will detail my reasons for the switch.  The theme I will be moving to is the FrugalTheme which I find very clean and fully functional. I hope the new platform will be beneficial to me, as a blogger, and to my readers.
Stay Tuned…