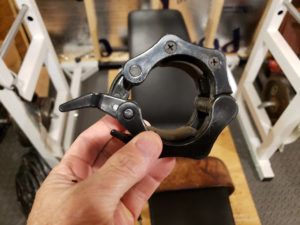 I recently complete a review of the CAP Spring Collars that you can read in this article. The article includes a youTube video of this spring collar and a demonstration of how it is used.
Before I bought my new Clout Fitness Bar Collars, I certainly thought that spring collars were the best for me when working out in my shed gym. Not anymore!
I started using my Clout Fitness Olympic Bar Collars about a year ago and, to be honest, they have grown on me. They are quick-release, very easy to lock in place, and are rock solid. And, another bonus is, they only coast $9.99 for each pair on Amazon.  My most recent addition to my shed workout area is my awesome XMark seated calf raise machine. It is a great quality addition to my home gym.
If you've lifted weights for a while you certainly have some preferences when it comes to workout equipment. As I have stated, spring collars were always my go-to collar when it came to my Olympic bars. But after using these Clout Fitness Olympic Bar Collars for about a year now, I find myself grabbing these collars in lieu of my spring collars.
I also got to thinking about usage of spring collars. Is it possible that someone may have a hard time depressing a spring collar? I think it's very possible, especially someone who may have a history of wrist issues. I can certainly relate to this because I have had wrist issues. As a matter of fact, I use these Rip Toned wrist wraps every time I work out because of my wrist problems over years of lifting.
Olympic Barbell Collars
Images of my Clout Fitness Olympic Barbell Collars
I created a youTube video in my shed gym that you can view below demonstrating the Clout Fitness Bar Collars.


If you're looking for a better option for securing your Olympic weights, you may want to check out these Clout Fitness Bar Collars. I love mine!
If you have any questions at all please leave them in the comments below or use my Contact Me page.