My wife and I recently moved up to the White Mountains of NH and, to be honest, the gyms around here aren't too plentiful. I've been lifting weights since I've been a teenager and, let's just say, it has become a habit for me.
Without a good weight workout, my outlook on life noticeably suffers. I think my workouts are more important for my mental outlook than for my physical being. I need my workouts!
So, since there aren't a lot of gyms near my house and the one that is near my house is fairly expensive, I decided to section off an area of my shed for lifting weights at home. I picked up a bunch of free Olympic weights but I didn't have any Olympic-sized bars. So, my first purchase of an Olympic-size bar was a 47" Body Solid EZ Curl Bar.
An EZ Curl bar is certainly a staple in any gym whether it be a commercial or a home gym. So, it's no surprise that this was one of my first Olympic-size bars that I purchased. I also purchased a 7' Olympic-size straight bar as well (for benching, dead lifts, and squats) and it's being delivered this week.
As I am furnishing my home workout area I recently added an XMark seated calf raise machine that I am loving! It's really nice to have quality equipment that I can use any time of the day or night.
I put together a quick youTube video review which shows me unboxing, cleaning, and using my new Body Solid EZ Curl Bar. You can check it out below.

As you can see from the video, I'm just putting together a weightlifting area in a section of my 12′ X 20′ shed. I'm hoping to chronicle all of the workout equipment that I purchase to set up this weightlifting area. I also purchased some
CAP Spring Collars
that I wrote about
here
that I use on the
Body Solid Curl Bar
.
(Click on either image for a larger view.)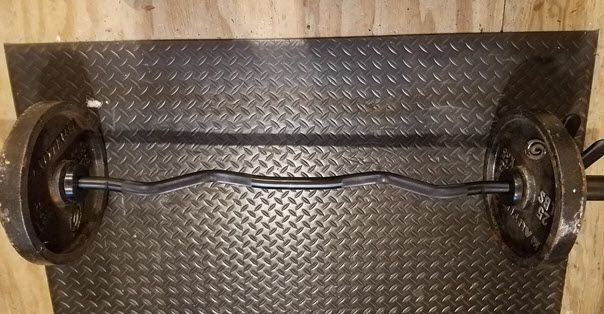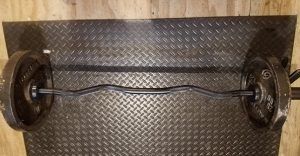 Dimensions – 47 x 3 x 3 inches
Shipping Weight – 18 pounds
Color – Black and Metal
Material – Two grips to target the inner and outer bicep heads
Well-built, solid construction.
Great value

So if you have a need fora well-built EZ curl bar for your own home gym, this Body Solid Curl Bar is certainly a great value and a high quality product. If you have any questions or comments you can leave them in the comments section below or use my Contact Me page.
Bob started his passion site, TotallyUniqueLife, back in 2009. The website is geared toward fitness, tips, DIY, life hacks, and reviews. Bob has been a fitness and weightlifting enthusiast for the past 50 years. He has also been passionate about woodworking and DIY over the years. He has been formally trained in woodworking at the Homestead Woodworking School in NH.
He enjoys sharing his knowledge of fitness, woodworking, and DIY on his website and YouTube channel with the same name – TotallyUniqueLife.