What compels an individual to reach the top of their profession? What are the influences during their childhood and adolescence that define their work ethic and their drive for success?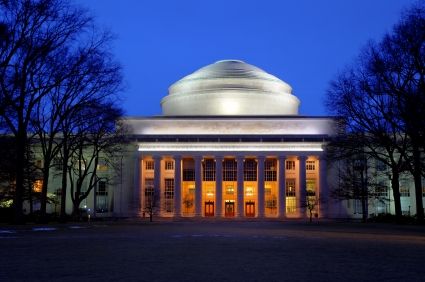 It's a question that any of us who strive for success are fascinated by. In this post I will pose some questions to one of those unique individuals who reached the height of his profession.
That person is Dr. Isaac Colbert. "Ike" has held some very prestigious positions, not the least of which was Dean of the Graduate School at MIT (Massachusetts Institute of Technology) in Cambridge, Massachusetts. Ike worked at MIT for 30 years and held the position of Dean of the Graduate School for 8 years. Ike retired in 2007 from that lofty position but has agreed to share with us a little insight on his life at MIT, what he is doing now that he is retired, and some of the positive influences in his life which helped him reach his lofty goals.
Could you give us some idea of what it is like to be a dean at one of the most prestigious universities in the world?
The opportunities and challenges are tremendous, as is the understanding that the faculty, students and staff are among the best anywhere. Working with very highly motivated, often workaholic, faculty and students who are at the top of their games is exciting. There is always a premium on new ideas and seemingly odd ways of doing things; solving the daily problems of managing a large and fragmented educational enterprise; encouraging new academic offerings that bring recent theory and research into the classroom; and smoothing administrative and financial paths to help students complete their degree programs and faculty to engage students productively in their research groups.

Being a dean at MIT typically required finding creative ways to promote wonderful ideas and novel approaches to degree programs while maintaining a coherent set of regulations and practices that govern all of them. It also required being clever in using available funds to support students and programs.
How was the transition for you of going from a dean at MIT to being retired? Was it difficult?
Not for me. I put plans into place for the possibility of retirement when I was 30 years old. My Mom had always cautioned me to "save your money aggressively, and put it where you can't easily get to it and squander it on frivolous things! It should be there when you're ready to move on and will permit you to better decide when the time is right." When I decided that the time was right, I was prepared emotionally, professionally, and financially to take that step.

The only initial issue, after 30 years of "hard driving" was how well I would step away from a workaholic existence to something less than that. What I've found is that there are countless ways to keep active whilst still having control of much of my time. There's really no such thing as "full" retirement these days, anyway, because there is so much need for help in one's community and ways in which to stay engaged professionally but at another level.
Can you talk a little bit about who influenced you at a young age and what motivated you as you grew up to reach your goals?
It will probably surprise no one that inspiration came from home and from a number of mentors who I was fortunate enough to meet along the way. My Mom always pushed my brother and me to focus on getting a sound education and going as far with it as possible. There was never any question that we were going to college, and we were encouraged to discover and develop our individual areas of interest. That had the added effect of teaching us that we don't have to beat others down in order to rise and be the best that we can be individually.

I was the outgoing, talkative one who was always interested in hearing what "the older folks" in the neighborhood had to say, so I was given many life lessons early on. This was in an era when my inner city neighborhood functioned very much like a village, wherein several generations of people in all kinds of jobs and professions lived in close proximity and looked after one another. I saw doctors, teachers, janitors, shop keepers, house cleaners, and more; so it was clear that many directions in life were possible.

Doing well in school became self reinforcing and opened lots of doors, some of which turned into internship opportunities and lasting relationships with people who chose to mentor and advise me. These people also taught me to give back to others some of the good counsel and mentoring that I received, and I've tried to do so for my entire life. I attended public school in Baltimore and was fortunate to have exceptional teachers throughout. They encouraged me to set very high standards for myself, to define clear goals, and to learn from the best and brightest around me. That has served me well and has helped me to remain a life-long learner.
You chose to retire. It was not forced upon you. If you had to do it over again would you have waited a little longer to retire?
Not at all. I planned carefully over several decades, thought a lot about my next steps as I approached the "magic age," and quite frankly was fortunate in my timing. For me, a nice thing about choosing to retire when I did was in leaving at a high point, when most of my objectives as dean had been met and my professional visibility and impact among peers were solid. Moreover, I'm still young enough to have time and energy for all those new things I've mentioned, while also enjoying more of life. I feel truly blessed to have been so fortunate with these outcomes so far.
Do you miss the interaction with the students?
Honestly, I sometimes miss the daily interaction with the incredibly bright and entrepreneurial students. There was hardly a single day when I didn't learn something new from them, and I've developed lasting relationships with many. I've not fully lost touch with all of them either, since e-mail and today's social networking sites have permitted quite a few to stay in touch with me, to my continued delight. Just this past weekend, in fact, I had an unplanned lunch with a PhD chemical engineer who I've know and advised since his freshman year at MIT 17 years ago. It's great to track the developing careers of students whose lives I've influenced in some way and to see how well so many of them are doing. In the end, this is what really counts for me.
Are you associated with any educational institutions or groups at this point of your life?
After retirement, I was invited to become a Trustee of the Educational Testing Service(ETS), the organization that develops high-stakes assessments such as the Graduate Record Exam (GRE), the Test of English as a Foreign Language (TOEFL), and the Test of English in Commerce (TOEIC), among others. Also, I am a board member of Chapel Hill Chauncey Hall School, a private high school in nearby Waltham, a role that I've played for nearly two decades for a school that successfully educates kids with learning differences. Locally, I am on the board of College Bound Dorchester, a group that encouraged at-risk youngsters in my community to prepare for, enroll in, and complete a college education.
Have you pursued any other business ventures now that you have the time to do so?
Actually, yes, and mentioning them might make one wonder whether I ever intended to slow down at all! I've had fun trying to transition from a career in higher education to involvement in for-profit ventures. One that I've enjoyed is development of a new skin-care product called "Vanash." My company, Boston Derm Lab, is marketing it as a less greasy product for post-laser treatment skin care as well as for treating dry, ashen or cracked skin on feet, elbows, or hands.
For about seven years, I've also worked with a company called V-Stax LLC, which is perfecting a fluids processing device for performance improvement applications in military tanks and vehicles, high-end motorcycles, and small jet engines, among other things.

I've also founded a couple of not-for profit companies with friends and colleagues, but the recession has effectively put them on hold for now.
All of these involvements keep the brain cells firing and the legs in motion, to be sure. No rocking chair for me!
Do you keep in touch with your co-workers at MIT or fellow deans or presidents at other universities?
My ongoing work with education-focused organizations has given me great vehicles for maintaining contact with many colleagues from throughout my career. It's been cool to have something new to talk about and some fresh ways to engage them and their organizations.
What was the most gratifying part of being a dean at MIT and what were your biggest challenges?
Being able to make a genuine difference for graduate education writ large, for MIT, and for the faculty and staff whom I served was the best part of being at MIT as a senior officer. There were so many times when an encouraging word, a slightly bent (or occasionally a strictly enforced) rule, or a few well-placed dollars made all the difference between success or failure for a student or a program. Allowing our graduate students to have direct access to me, and bringing them in a meaningful way into decisions that affected their lives was the other part of my gratification. It has made a positive difference in the way that graduate students leave MIT feeling about their experience there.

Time management was always the biggest challenge, especially since I had a small staff of 20 serving a very large constituency of 6000+ grad students, 1000 faculty, and over 150 grad degree programs. A large and complex place like MIT was still highly person centered, so the demand for direct and immediate engagement in problems and decisions was always high. Being infinitely interruptible while not losing track of other ongoing issues gave me many Excedrine headaches, but was simultaneously and strangely exciting while I was in it. Still, I don't miss those daily juggling acts on a high-tension wire!
I want to thank Dr. Colbert for agreeing to do this interview and for answering the questions posed to him with such detail and candor. I have known Ike for many years and I can honestly say that he is the real deal. It is not often that you come across an individual who has charm, personality, brains, and, more importantly, a warm and generous heart. It is not surprising to me that he has been a success in his life. I wish him continued success and happiness in his semi-retirement. Thank You Ike!
Isaac M. "Ike" Colbert is the retired Dean for Graduate Students at the Massachusetts Institute of Technology. A 1968 graduate of The Johns Hopkins University, located in his home town of Baltimore, Maryland, he majored in psychology and continued training in experimental psychology at Brown University. He completed the Master's Degree in 1971 and the doctoral degree in 1974 in human learning and cognition. Ike joined Northeastern University as assistant professor of psychology in 1972, and then moved to MIT in 1977. Once there, he assumed a broad range of administrative assignments that have included strategic planning for administrative computing, oversight of financial computing systems acquisition, and reengineering of administrative processes. These assignments culminated in his 1999 appointment as Dean, a role of advocacy and support for graduate education, from which he retired in 2007.
Please subscribe to my blog using the RSS link or email updates and follow me on Twitter.
If you enjoyed this post please click on one of the icons below and share the love.