A Mongoora Bike Phone Holder is one of those bicycle accessories that makes me wonder why I didn't buy one a lot sooner. Being able to easily access my phone safely on a bike ride is a really cool feature. And let's not forget that it's an Amazon Best Seller in vehicle mounts!
I've been riding a bicycle regularly for exercise for the past two years. A couple of years ago I decided this would be a great way to get some cardio as well as to enjoy my surroundings.
I live in the White Mountains area of New Hampshire so there is never a lack of beautiful scenery.
Here are some pictures with the Mongoora Bicycle Phone Holder on my bike! You'll note I also tested it with my wife's iPhone 11 which includes an Otterbox phone cover (seen on the right below).
(Click on either image for a larger view)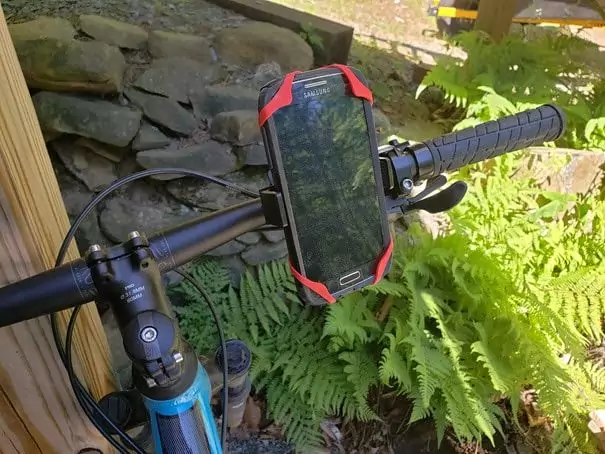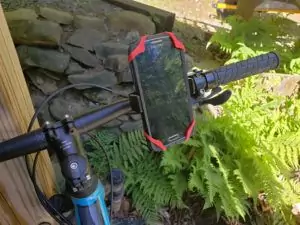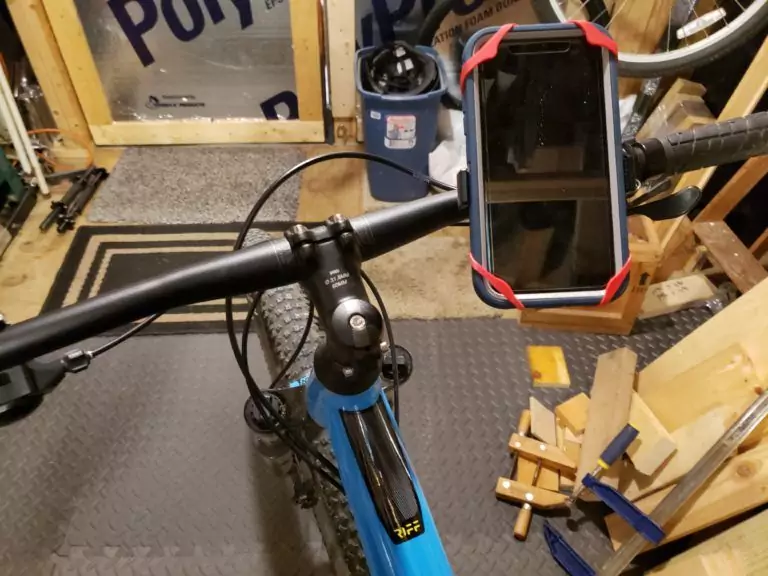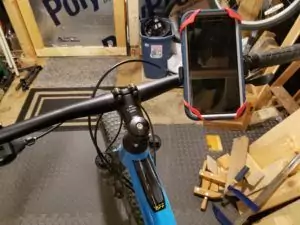 I'm currently 62 years old and I never think it's too late to try something new. Don't get me wrong, I used to ride a bike as a kid but it has been many, many years since I did so regularly. So I'm always on the lookout for awesome bicycle accessories that can make my life easier.
This Mongoora Bike Phone Holder allows me to secure my smart phone (Samsung S8) to my bike's handlebars. I like to keep track of how far I go and the speed in which I am pedaling. MapMyRide, the cell phone app, works perfectly for my needs. It will not only show my split times, it will show how far I have gone as well as a map of the route I took.
You can check out my YouTube video below of me assembling the Mongoora Bicycle Phone Holder.

Product Dimensions – 3 x 3 x 2 inches
Item Weight – 3.2 ounces
Model Number – Mongoora BM
ASIN – B01N15DI2V
Color – Black with multi-colored bands
Manufacturer – Mongoora
Fits any device up to 3.7″ width
Fits bike and motorcycle handlebars 0.9″–1.3″ in diameter
360 Degrees Rotation
Three strong and durable colored silicone bands
If you think that you could use a solid bicycle phone holder that you could also use on your motorcycle, you might want to also look into the Mongoora Bicycle Phone Holder. I love mine and so does my daughter. It's a great value and a really useful bicycle accessory!
Bob started his passion site, TotallyUniqueLife, back in 2009. The website is geared toward fitness, tips, DIY, life hacks, and reviews. Bob has been a fitness and weightlifting enthusiast for the past 50 years. He has also been passionate about woodworking and DIY over the years. He has been formally trained in woodworking at the Homestead Woodworking School in NH.
He enjoys sharing his knowledge of fitness, woodworking, and DIY on his website and YouTube channel with the same name – TotallyUniqueLife.