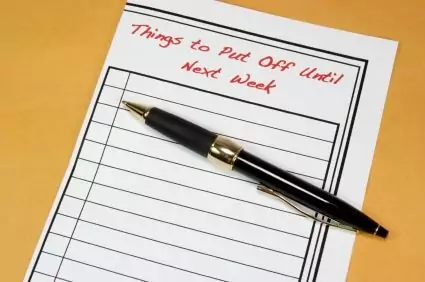 Increasing productivity is a goal for most of us but there are many time wasters that can drastically affect how much we get done in our daily lives. In this post I will touch upon five time wasters that are related to managing ourselves each day and tips on how we can avoid them. Feel free to add your own in the comments.
1. Personal Disorganization
You may not consider being disorganized a time waster but it can surely be a major symptom. If you have a cluttered desk or a poorly organized filing system (or none at all), you certainly could waste time finding certain items associated with projects that you're currently working on.
How to avoid: Take a few minutes each morning or at the end of the day to clean your desk and organize your filing system. Your organizational skills are extremely important! This will go a long way in helping you find paperwork or documents associated with the projects you need to tackle that day and the next.
2. Procrastination
I must say that I am as guilty of procrastination as the next person. Putting off what you know you have to work on is the epitome of time-wasting.
How to avoid: Setting clear and distinct goals for each day should help considerably in your fight against procrastination. Review what you have accomplished at the end of each day. This should help reinforce your daily fight against procrastination.
3. Attempting too much by yourself
Being self-sufficient is honorable but trying to do too much is another. Trying to figure out how to do something that you don't specialize in can be a huge time waster.
How to avoid: Ask for the help of others who have a specific skill rather than trying to figure it out on your own and, as a result, wasting time doing so. If you want to revisit it later, then do so but try to use others to help you reach your goals. You may find that you may also be able to help them out in their next project.
4. Socializing or pointless conversations
I'm sure that everyone's eyes lit up reading this one. Let's face it, we are all guilty of this time waster. Obviously there is a time and a place for socializing but there can come a point when it can consume huge volumes of time. These conversations, unless they are related to your project, can grab precious time from accomplishing your goals.
How to avoid: If you have a hard time avoiding such conversations, ask a co-worker to step in if they see you in a conversation that has escalated into a big time waster. Have that person either call your phone or drop by and say that your services are needed. One technique that I use regularly is to excuse myself and head to the restroom. Whatever works for you use it…
5. Meetings
I do my best to avoid as many meetings as possible. I've been to too many meetings that clearly had no direction and had no goals defined as a result of the meeting. Arbitrary meetings in the corporate world are the biggest culprits that can lead to a big waste of time. Whomever has called the meeting should use his or her organizational skills wisely.
How to avoid: Be inquisitive of the meeting organizer before the meeting as to why you are invited. Too often I have been invited to meetings where I really had no role. It's almost like the organizer says to himself "Let's invite Bob. He may be able to contribute something." Learning to say "No" may be tough to do but it is necessary if you want to accomplish your goals. Don't waste an hour or more in a meeting that isn't to your advantage.
Wasting time related to managing yourself is something that we have to avoid if we want to accomplish our daily, weekly, monthly, and yearly goals. Hopefully this post has identified some of your major time wasters and tips in how to avoid them. Next time I will discuss
5 time wasters related to planning. See you then…
Bob started his passion site, TotallyUniqueLife, back in 2009. The website is geared toward fitness, tips, DIY, life hacks, and reviews. Bob has been a fitness and weightlifting enthusiast for the past 50 years. He has also been passionate about woodworking and DIY over the years. He has been formally trained in woodworking at the Homestead Woodworking School in NH.
He enjoys sharing his knowledge of fitness, woodworking, and DIY on his website and YouTube channel with the same name – TotallyUniqueLife.