This is a guest post by Marina Chernyak. If you'd like to guest post on this blog, click here.
Your kitchen is the hub of your home and the place where you brew your pour over coffee each morning, eat your meals, and sit to discuss the events of the day. If your kitchen is not fully suited to your needs, there are several design changes that you can implement. Use the following 27 kitchen design ideas to add your own touch and impart a piece of your unique personality to your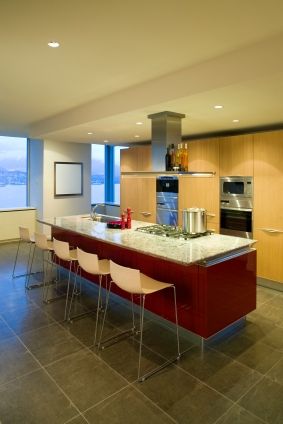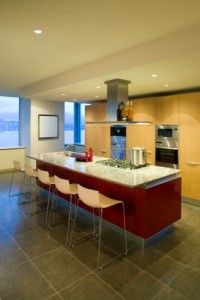 kitchen. These tips range from changing the floor plan to customizing kitchen cabinets and furniture.
Evaluate, Plan, and Decide
1. Evaluate your available space and what you actually need in your kitchen. Space is a fundamental variable in any design project. Knowing how much space is available will help you include design features to achieve best results.
2. Do you want to change your kitchen layout? It's best that you contact a building professional for advice on changing your kitchen floor plan. Check which walls are load bearing and which walls can be taken down safely without causing structural damages to your home.
3. What color kitchen cabinetry would you prefer? You can get cabinetry custom made for you to store specific-sized containers and to take advantage of corners.
Kitchen Layout
4. If it's not a load bearing wall, contemplate removing a section or the whole wall between your kitchen and dining areas. For example, if your kitchen is separated from your living area by a wall, you could take the wall down to create an open kitchen and dining area.
5. Once the wall is down, consider constructing a breakfast counter out of wood or bricks in the place where the wall used to be. This will keep your layout open while providing a place to eat.
Kitchen Flooring
6. You can experiment with all kinds of kitchen floors and floor plans. Black or dark red granite tile gives a rich look. Alternating white marble and black granite tiles in a chessboard pattern is still popular.
7. For a conventional look, explore laying a wooden floor. Hardwood floors are classy and look natural.
8. Vinyl flooring is a little more economical. If you want something different, go for laminates embedded with inlaid graphic designs.
9. Use a different colored or textured floor plan for the center and a different one for the skirting to create a unique look. Note that this works best in a large kitchen.
Kitchen Cabinetry
10. A pure white color is a good choice, as it reflects light and opens up your kitchen. Pale wood colors are also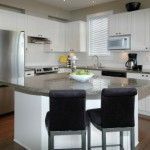 great for a kitchen. Find the best solution for you.
11. If you are building a cooking island, design a special attached cabinet to its left or right to keep your most-often accessed ingredients.
12. Contrast your cabinet pulls to the material. For example, sleek stainless steel pulls look great on warm, wood-toned cabinetry. Brass pulls look great on white cabinets. Explore different aesthetics until you arrive at what you want.
13. Use transparent or patterned glass to panel your cabinet doors. This looks attractive while giving an easy glimpse of the cabinet's contents.
Kitchen Countertops
14. You can choose from different materials for your kitchen countertop such as marble, metal, wood, concrete, or laminate. Granite countertops are very popular for the traditional countertop as well as for surfacing a kitchen island. Choose a material that's easy to clean, is not easily breakable, and retains its shine even after repeated use.
15. You can opt for a concrete countertop and custom color it. Use specially blended and mixed countertop mixes in any color or multiple colors of your choice.
16. You can embed glass, sea shells, coins and even beads along the edge of a concrete countertop to create an interesting effect.
17. When your concrete countertop is still wet, insert different shapes of steel rods used as trivets for hot pots and pans into the countertop. These raised rods protect the sealer of your countertop and provide a place to keep hot items.
Kitchen Sinks
18. Highly polished stainless steel sinks make a great impact on your kitchen decor. If you have sufficient space,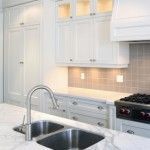 put in two sinks, one on the countertop and one in your cooking island.
19. While you're at it, check out colorful ceramic sinks as well. These look great, are extremely durable and go well with granite tops.
20. Make sure you get your sink configured with an organic waste dispenser. This will come in useful if you want to compost your organic waste.
Cooking Island
21. A cooking island that includes a sink and a refrigerator under the counter is a great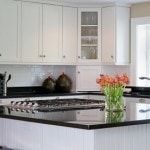 convenience for any cook.
22. Incorporate a hidden trash bin under the counter and a slider to open the trash chute from the island top.
23. Your cooking island should be able to hold a large hub or a multi-burner stove. Ideally, you should have a good-sized chimney on top of the island as well.
24. Hang a pot and pan hook circle next to your cooking island and hang your polished brass pots, saucepans and pots there for easy access.
25. An isolated cooking island acts as a functional division between the kitchen work zone, your countertop, and storage spaces. You can use parts of your countertop to organize attractive containers and collectibles as well.
Optimize Ventilation
26. If your kitchen already has a window, remove wooden shutters and venetian blinds, if any. Jazz it up with fluttery lace curtains and a few flower pots.
27. If you don't have a window, replace the top cabinetry along one wall with a long glass window pane to let in the light.

This article was written by Marina Chernyak who is a home décor writer and co-owner of an online wall clock website – 1001WallClocks.com