Please check out my latest post on Work Awesome. It is the recipe for a pomegranate cosmopolitan.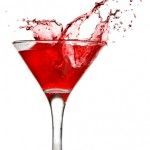 Pomegranates are in vogue these days in both cooking and drinks. I have started introducing 100% pomegranate juice into my drinks of late and this cosmo really hits the spot. You can use this same recipe using grape, cranberry, or pretty much any type of juice. I always stick with the 100% juice because if you don't you will notice on the label that the predominant ingredient is apple juice. You'll pay a little more but it is definitely worth it to get the 100% juice. Enjoy.
Please subscribe to my blog using the RSS link or email updates and follow me on Twitter.
If you enjoyed this post please click on one of the icons below and share the love.