This is a guest post by John Morris. If you'd like to guest post on this blog, click here.
There's nothing like a bit of DIY, especially if you want to save money. Who knows? Once you've tried it, you might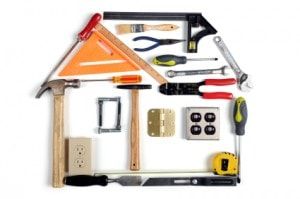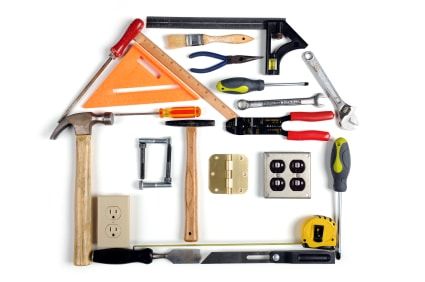 discover that do it yourself projects become one of your favorite pastimes. After all, there are few things that are more satisfying than admiring your completed DIY projects; especially if those projects are going to help you enjoy your home more. If DIY sounds like something you'd enjoy, then here are ten handy DIY tips to get you started.
10. A bad workman blames his tools
Good quality tools will make any job easier, quicker and produce better results, so make sure you spend that little extra for tools that are fit for purpose. Buy cheap tools and you'll only end up spending more money in the long run when it comes to replacements.
9. Safety first
More accidents happen when people are carrying out DIY home tasks than during any other activity in the home, so take every precaution. You could tackle a project like roof cleaning on your own but does it make sense? Don't carry out electrical repairs unless you're qualified and wear appropriate safety clothing at all time. Always make that safety equipment, especially ladders, are in good working order.
8. Sometimes only a professional will do
If you're only starting out, there will be some jobs you simply can't do. When it comes to complex electrical, plumbing or building work, get a professional in. If you botch a job, it could end up costing you much more in the long run. Never overstretch yourself. Hire a professional. You can always learn something from watching an expert at work!
7. Measure twice cut once
One wrong measurement can ruin an entire job and could mean forking out more cash on replacement materials. Always recheck your measurements. When in doubt, get a second opinion.
6. Patience is a virtue
When it comes to any home DIY job, take your time. Work methodically and meticulously. Rushing a job simply means poor results, costly errors and could result in an accident.
5. See the bigger picture
When renovating or refurbishing choose materials that are fit for purpose. There's little point putting white PVC windows in a 300-year-old farmhouse!
4. Stay legal
Check with your local authority to make sure you have planning permission for any works you're about to undertake. And always work within safety legislation when carrying out heating or electrical repairs.
3. Be realistic with your budget
Ever watch those TV programs when eager homeowners go over budget? Nine times out of ten that's because they haven't been realistic or planned for the unexpected. Don't make the same mistake.
2. Plan ahead
Before you start any job, put it all down on paper and plan for every possible eventuality. Consider any works you might want to undertake the future that could impact on the job at hand and future-proof where possible.
1. Don't be afraid to ask for help
Do your research and don't be afraid to ask for help. You're not the only DIYer in the world and there are plenty of forums out there to help you. Learning from the mistakes of others means you don't end up making the same mistakes yourself.
Hopefully these DIY tips help you in your upcoming projects. Good luck and stay safe!
This article was written by John Morris who is a writer, journalist, and editor. He specializes in Home and Garden and often writes articles on home improvement.
Please subscribe to my blog using the RSS link or email updates and follow me on Twitter.
If you enjoyed this post please click on one of the icons below and share the love.