This is a guest post by Patricia Cornwell. If you'd like to guest post on this blog, click here.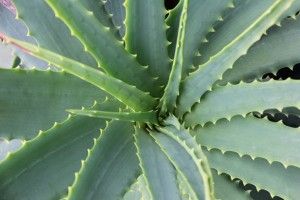 We people tend to think that our homes are the safest places on earth. However, a simple indoor air quality test can prove us all wrong. There are many hidden dangers that we aren't aware of. Think synthetic building materials, upholstery, paints, cleaning products and other things we have or use around the home. They all release dangerous particles in the air that are anything but safe for us and our pets. Not to mention, mold and mildew spores, germs, bacteria and pollen might be present as well. Also, car exhaust, smoke, dirt and mud easily find their way into our homes.
Many online articles claim that indoor air is more polluted than outdoor air. Considering that we spend over 80% of our time indoors, it makes sense to try to improve indoor air quality. Aside from airing out the rooms, we can also try growing houseplants. It has been proven that plants can purify the air in addition to beautifying the interior. So, here are top 5 houseplants that clean indoor air. Take notes.
5. Aloe
Aloe Vera is a succulent which has thick and dense leaves. It has a number of health benefits. Its leaves consist of amino acids, enzymes and vitamins that have anti-inflammatory, antibacterial and wound-healing properties. Aside from that it makes a great air purifier. Aloe can clear benzene and formaldehyde, which lurk in paint products and household cleaners. The plant loves sunny spots, so keeping it by a window is the best way to go. Not to mention, it's easy to grow. You can never go wrong.
4. Dracaena
Dracaena is a succulent that has wide, long leaves. There are a whole host of Dracaena plants and all of them are perfect for your office or home. There is plenty of choice here. With over 40 different species, it's easy to select the plant of your dreams. Dracaena helps to clear xylene, trichloroethylene, formaldehyde and benzene. It can grow tall.
Note: Dracaena is toxic to dogs and cats. If you own a pet, you might want to opt for another plant for the sake of your animals' health.
3. Bamboo Palm
Another great pick for your home is bamboo palm. It grows really big so you can imagine how much air it can purify on a daily basis. Bamboo palm loves full sun but it also does well in shady conditions and is safe to pets.
It eliminates trichloroethylene, formaldehyde and benzene. Not to mention, it adds beauty to your home. This plant not only purifies the air in your home, it will some class and style to your home's decor.
2. Snake Plant
The perfect addition for people who tend to neglect their houseplants is snake plant. It is quite difficult to kill. Interestingly, it is also known as Mother-in-Law's Tongue (no, we are not trying to imply anything here). It does well in low light conditions and it can thrive in both humid and drier environments. As a general rule, you need to water it every now and then. But don't worry if you forget to do it.
There are over 70 species, so again, there is plenty of choice for the picky ones. Now, snake plant can kick away xylene, trichloroethylene, formaldehyde and benzene, making indoor air much safer and fresher.
1. Peace Lilly
And drum rolls, please. Here is the frontrunner. Ladies and gentlemen, please welcome peace lilly. The one that battles a whole host of chemicals, such as xylene and toluene, which are common in paint, shoe polish, lacquers and glues. Not only that, but peace lilly is on the top of NASA's list of houseplants that eliminate trichloroethylene, formaldehyde and benzene. It also combats ammonia.
This plant has white wide leaves and produces blooms throughout summer. It thrives in shady areas and it is easy to grow. Just don't over-water and you will be fine.
Get one of these plants to improve the quality of indoor air. If you can bring nature indoors, it's always ideal. Let those houseplants make your home a safer place.
This guest article was written by Patricia Cornwell who is a writer and a professional gardener. She works at gardeners in Croydon.