You're a busy professional, with an equally hectic family life, and you have recently found yourself spending as much time working as you are thinking about how you don't have enough time to finish everything at work and home.  Worrying about how to optimize how you spend every minute of every day is a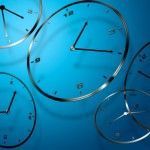 common concern for business men and women. These concerns can be useful if the worry is transformed into practical action.
Time management is not an easy skill to learn, especially if you aren't one of those few blessed individuals that seem to have been born measuring their lives in coffee spoons.  It is, however, a skill that can be learned over time with a concerted effort.
Don't Panic
The first thing to remember is that time is constant.  There will always be 24 hours in a day, and nothing you can do will change that.  A wise wizard from my favorite childhood fantasy series said, "All that you have to decide is what to do with the time that is given to you."  Once you realize that you can't change time, you can relax a little, and start focusing on ways that you can better manage and maximize the time you have.
Plan, Plan, and Plan Some More
Sometimes a task or set of tasks feels larger than it actually is because we are trying to think about everything at once.  Instead of keeping your day organized in your head (which is admittedly not the neatest place, even for geniuses) make a plan every day.  List out everything that needs to be done and then organize the list by priority.
Once you've done that, decide how long you'll spend on each task.  Working on the largest, hairiest task of the day all day long can actually be counter-productive, especially if you aren't making the kind of progress you hoped or expected you would.  If that is a problem you're too familiar with, limit yourself to 10 or 20 minutes at a time working on the big project, taking breaks to walk, or work on smaller items to refocus and come back with new eyes.
Similarly, you can decide whether it has to be you that does everything on the list.  Often, you can delegate tasks out to others.  Maybe the new hire, Jim, for example, can take care of copying that report.  How about your husband picking up the kids and dinner?
Learning to Say No and Other Helpful Strategies
Probably one of the most common time management problems people have is the inability to say no to work that is outside their range of responsibilities or that is not a priority.  You might be surprised to find how much time you can save just by saying no when you need to.  How to say no is a learned skill that comes with experience.
Another method you might consider is keeping a log of how you spend your time for a few days, so that you can examine how you are really spending your time.  You can't argue with facts, and raw data like that can give you a great perspective, as well as an initial benchmark that can help you decide where to start making efforts.
If these preliminary strategies don't start you on the path to a more streamlined lifestyle, consider attending a time management workshop.  Employers generally offer courses related to time management tips, but even if yours does not, you can usually sign up for a class at a local community college or a university.
Just remember: don't panic.  Time will always be there.
This guest article was contributed by Stella Walker who is a freelance writer of free credit score where she writes about topics including credit, debt, investment, and bankruptcy.
Please subscribe to my blog using the RSS link or email updates and follow me on Twitter.
If you enjoyed this post please click on one of the icons below and share the love.