This is a guest post by Ryan Rivera. If you'd like to guest post on this blog, click here.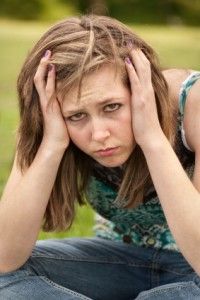 Parents tend to struggle the most when it comes to a child leaving for college. You raised your child for roughly 18 years, from the day they were born until they graduated from high school, and now you have to let them go and start a real life for themselves.
It's easy to see why parents are in such dire need of support throughout this transition period and dealing with college separation anxiety after they have left the house.
But it's not the parents alone that are nervous. Your child is also starting a new life for themselves, and when they leave for college they are bound to feel anxious and alone in ways they had not experienced before.  Dealing with anxiety, during this challenging time, is tough for both parent and child.
Leaving the Home
For most college students the realization that they're on their own is more gradual. While parents often experience the fears and sadness the moment the child leaves, college students often start out feeling excited – believing that they're ready for the road ahead. Then, over time, the reality of their situation starts to take effect. They're independent now, and they don't have you to fall back on – at least not like they used to.
As parents, you need to find a way to prepare your child for the anxiety they are bound to face when they leave your home. Your child's college life depends on their ability to overcome any stress and focus their attention on their classes and social life. Here is a small example of the advice that you should give your child before and after they're off to school.
College Student Advice
The most stress your child is ever likely to experience in college will come during their first quarter/semester when they're surrounded by new people and challenged by their classes. College isn't like high school, and your child needs to spend the beginning of college focusing entirely on what they need to accomplish, so that they are not spending all their time trying to catch up during their remaining 3 ½ years.
This includes how they adjust socially. Many of the best college friendships are going to start that first quarter. The more your son or daughter is able to socialize with people during those first few months, the better their overall adjustment to college will be.
Much like starting strong, your child should take the time to learn the study skills that work best for them. Once again, college tests and work are much different than high school homework. What worked in the past may not work with their new education. So if they focus their attention on learning to find the study style that works best for them now, they'll have an easier time later.
As a parent it may be hard to convince your child to learn study skills and try hard in the beginning, but if you help them understand that they'll be able to relax more later if they do as much as they can now, they may be more receptive to the idea.
Much of the anxiety students get is the feeling of being alone. Dorms are no guarantee that they are going to meet interesting people. But if they join clubs or find a job on campus or look for some other way to occupy their down time, they'll meet a lot of different people and either enjoy fun activities or earn money in the process – both of which should reduce their overall anxiety. Be proactive in showing your child what they can do on campus and urge them to take advantage of it.
If your child was not already exercising regularly, now is easily the best time to start. There is a lot of social pressure to look your best and be as healthy as possible, and exercising can certainly help that. But exercise will also help your child sleep and give them something to do every week. It's a great way to reduce the effects of generalized anxiety disorder and stress, in addition to its social benefits. If the school doesn't have a gym, consider paying for a gym membership yourself so that your child doesn't have to be concerned over their own budget.
Reassure Them You're Still There
Your child may not appreciate it now. They may even roll their eyes and give you a fake smile. But if you can successfully reassure your child that you're there for whatever they need, you can be certain it will have a lasting impression once the reality of their situation starts to kick in. It may also help you feel better too.
Helping Your Child's Anxiety
If the anxiety gets worse, supporting your child's treatment choices and finding them effective solutions for dealing with anxiety is another important part of helping them adjust to college life. But if you give them the right tools and provide them with your words of encouraging wisdom before they leave to their dorm room, you'll find that they adjust better to college and experience less anxiety throughout their four years.

About the Author: Ryan Rivera remembers the anxiety he experienced when he went off to college, and he shares his thoughts on anxiety at CalmClinic.com.