This is a guest post by Valerie Gravel. If you'd like to guest post on this blog, click here.
Redecorating any room in your home always gives you a bit of a headache. When the room you're planning to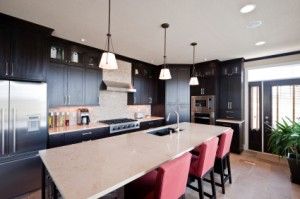 redecorate is your kitchen, you want to make the right choices because your kitchen is like the headquarters of your home.
It's where you brew your coffee each morning, eat meals with your family, and where you receive your guests during a dinner party. It's important that this focal room of your home have a contemporary but inviting feel to it. If repainting your kitchen is in your future plans, here a few tips you might want to consider before deciding on the color scheme and interior paint colors that will adorn your future walls.
Don't be afraid of color
One of the first things that needs to be checked off your to do list before you even think about buying a can of paint is, what type of tone are you looking for in your kitchen, warm or cool. Since you're just thinking about repainting the walls, you'll probably be keeping the same kitchen cabinets. Use your cabinet color as a guideline towards which type of tone is best for your kitchen.
Since the kitchen is the place where people come together in your home, it should be bright and cheerful, so don't be afraid to use color. Most appliances are black, white, grey, or silver those are the default colors that they come in and that cannot be changed. Make a statement in your kitchen by painting just one wall with a bold color. You can instantly change the whole look of your kitchen by painting just one wall with a bright color since bright colors can be matched to any type of cabinetry.
Wood cabinets go well with blues and greens. White, black and brown cabinets are wild cards since they can be matched with any type of color under the sun. Don't be afraid to mix and match different types of colors together. Frame your black fridge with a bright red to really bring out the contrast and give brightness to the entire room.
Color can be subtle
If you opted for a cooler palette to paint your kitchen, it's better to stay away from bright reds and oranges. After all, color doesn't mean that everything has to be bright and flashy. Subtle colors will make your kitchen feel comfortable and inviting. They are a wise choice for cooks who tend to be stressed out in the kitchen since bright colors can be stressful for some people.
Depending on the atmosphere you want to create you might be more inclined to use colors you can find in your day to day life like grays and browns to give a more natural vibe to your kitchen.
Trends you might want to follow
If you're still scratching your brain about which types of colors would be best for your kitchen, here are some popular combinations that might get your creative juices flowing:
Grey and brown – Brown is a color that is often present in the kitchen in the form of cabinets or floors. It can be easily matched with grey in either the walls or the steel of the appliances for a stunning contemporary look.
Green and silver – Those two colors combine both nature and modern design. Matching these two colors will create a soothing atmosphere for your kitchen.
Red and white – Red stimulates the appetite and is one of the top kitchens colors of our time. Use a bright red color if you have white cabinets for a bold, in your face look.
Blue and black – Blue cabinetry with black countertops is beautiful and it will create a chilled out sensation that won't stress out your cook.
Black and white – Those two colors never go out of style and are a match made in even. If bright colors aren't your cup of tea, you will be satisfied if you paint your kitchen in monochrome tones.
In the end, how you truly want to paint your kitchen is up to you. If you're lacking in inspiration, you can always look at magazines pictures or online decorating websites to stimulate your creative urges. If all else fails, consult an expert designer. You can sometimes find them in the paint section of your favorite home decoration store and they will be delighted to share their advice on color schemes and interior paint colors to use in your kitchen and the rest of your home.

This article was written by Valerie Gravel who is a guest blogger for Theo Mineault. Since 1952, Theo Mineault has been devoted to manufacturing and installing high quality kitchen cabinetry and windows. For more information on Theo Mineault, visit their website at http://www.theomineault.com/ today.
Please subscribe to my blog using the RSS link or email updates,follow me on Twitter, or on Pinterest.
If you enjoyed this post please click on one of the icons below and share the love.