This is a guest post by Vern Marker. If you'd like to guest post on this blog, click here.
When it comes to relationships, there's a lot of information out there. There are relationship tips on how to find a relationship, how to keep a relationship,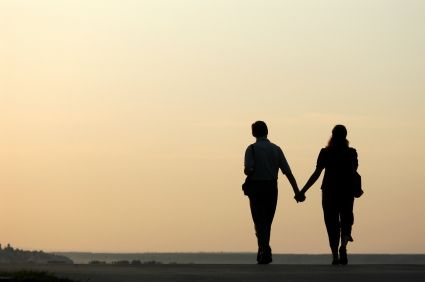 how to end a relationship, how to rejuvenate a relationship, or how to decide if being in a relationship is right for you. Besides the endless self-help books and articles on relationships, we also seek out the advice of friends and family. We are bombarded with relationship issues and ideas in media. There certainly is such a thing as too much information. With all the differences of opinions on relationship issues, it can be difficult to muddle through the information and get to the heart of the matter. Maybe instead of more complicated theories on how and why relationships work, taking it back a notch and sticking to simpler concepts is the way to go. Some basic psychological theories can go a long way to giving us insight into being in a relationship, how they really work, and why.
Why we need relationships
There are a slew of reasons why someone seeks out a relationship. But at the heart of it, it's the same for everyone: we're social beings. Whether an extreme extrovert or introvert, most of us seek out the company of others. From the moment we are born we crave the company of others. Studies have been done that have proven newborns won't thrive and can actually get quite sick if they don't get enough attention and touch from others. It only makes sense that as we get older and more aware this need continues.
He said, she said
Men and women may be equal, but they are very different. This means that they may approach relationships from different angles. Gender differences can go a long way towards explaining why men and women expect different things out of relationships and approach arguments and relationships differently. Knowing this ahead of time can help a couple communicate better. Accept the difference and work with them, rather than against them.
Did they really mean that?
Do you tend to attach significant meaning to everything your partner does or says? Do you find yourself falling into the trap of "If they really loved me then they wouldn't have done X"? Cognitive behavioral therapy can help you to understand, in a relationship, why you and your partner may not be on the same page when it comes to understanding what takes place during a conversation or argument. This branch of psychology deals with the fact that the meaning and significance that we place on an action not only guides our reaction to what has happened, but may be affected by our feelings and perceptions. Acknowledging the fact that our feelings guide how we react to a certain situation and that those feelings can also place high expectations on the other person in the relationship can help us to avoid misunderstandings and arguments in the future.
I think, therefore I will
If you find that your relationships are all short lived, or that you are constantly ending up in relationships that aren't good for you, it could be that you are tangled up in a self-fulfilling prophecy. Basically, you think that your relationship is going to fail so you become jealous and distrustful, therefore ending the relationship.
Whether it's brand new or you've been in it for years, being in a relationship can be difficult. They require work. But with all the relationship tips, advice, and information out there, it can be tricky to navigate. But by taking a step back and looking at some of the underlying psychology as to why we behave certain ways when it comes to relationships, it can certainly help us get a better grasp on things.
Vern Marker is a writer on a variety including further education, time management, and relationships. After finishing his information technology degree online, Vern decided to inform other students about the ease of getting an education online.
Please subscribe to my blog using the RSS link or email updates,follow me on Twitter, or on Pinterest.
If you enjoyed this post please click on one of the icons below and share the love.