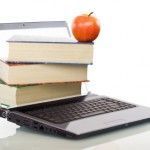 As I stated in my previous post, this Spring I will be completing my third degree but this one will be completely online.  In that post I discussed the benefits of taking online education.  In this post I will focus on the drawbacks of taking an online degree and an analysis of the two at the end.
Now let's get to the drawbacks …
Removed from the College Scene.
My eldest daughter is currently a freshman in college and she lives there full-time. Even though she has been there for only a little over three months she now calls it "home". The camaraderie that she feels with her fellow classmates is strong. As a parent I am extremely happy that she has been able to form a tight-knit bond with her fellow classmates. This type of close relationship simply cannot be fostered if you are taking a degree online. Years ago when I was taking my first degree just out of high school I commuted to college. Even though I did not live there I was able to partake in the college scene and atmosphere. Talking with classmates face-to-face and being able to socialize with them leads to relationships that simply cannot be fostered online.
Interaction with the teacher is difficult.
When we are taking classes in college there are times when we simply need to meet with the professor after hours to get help with the coursework. This can be a problem with an online education. Certainly there are tools like Skype that we can utilize to speak with the teacher online but it simply is not the same as first-hand human interaction. Just as talking with your classmates face-to-face, it is also helpful to be able to do the same with your professor. The personal relationships gained from first-hand interaction far exceed any type of relationship you can develop via emails or online tools.
Group projects are cumbersome and nearly impossible.
Of all of the online courses I have taken there was only one professor who was bold enough to assign a group project. First of all, I am not a fan of group projects, online or not. I know that I can count on myself but having to count on others is not my cup of tea. Invariably there will be one or two of the group participants that will not pull their weight. This is difficult enough when you actually have met your group partners and have conversed with them face-to-face but online it is even more difficult. It is my opinion that professors who teach online courses should never assign a group project. For one thing, if one of the group members is on the other side of the world, trying to set up a time to interact online is difficult. But the main reason is that the online environment does not lend itself to a group working together to complete a project. If you've ever had to work on a group project in an online course you will know exactly what I mean.
Feelings of isolation.
No matter how you slice it, an online education can lead to feelings of isolation. You should never get into an online degree thinking that you can develop the same relationships that you would develop if you were attending a traditional classroom. If you understand this going in then it will be to your benefit. You must know that you are in it for the education and only the education. This is the approach I went into my online education with and, if you understand this upfront, you will not be disappointed.
My Analysis of the Benefits vs the Drawbacks.
My recommendation is that if you are looking to take an online degree for your first degree then you should reconsider. The value that you gain from the face-to-face interaction and the development of relationships with others in your class is invaluable. Then again, if you are forced to work to support your family then an online education for your first degree is a great option. What I feel is the best scenario is to go to a college for your first degree so that you can enjoy the scene, get away from your home, feel some independence, and get a good education. After that, if you are so inclined to get more education, taking a Masters Degree online or another Bachelors degree is a sound choice. For full-time workers I think taking an online degree is the perfect option especially for the reasons stated in my previous post.
Please subscribe to my blog using the RSS link or email updates and follow me on Twitter.
If you enjoyed this post please click on one of the icons below and share the love.