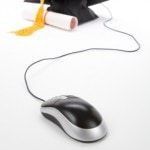 This Spring I will be completing my third degree but this one was a little bit different than the other two. This degree will be totally online. Online education has been a whole new ballgame for me as far as schooling is concerned. Since I work full-time (and not on this blog), taking an online degree was an attractive option for me.
When it comes to education I tend to live my life by the quote:
"The truly educated never graduate".
I'm sure that there are many of you out there who either have taken online courses or are considering it. Some colleges out there offer complete degrees online and in this post I will detail what I consider the benefits. In my next post I will focus in on some of the drawbacks of online education.
First, here are some online education basics…
For an online class there is typically a course outline and homework assignments assigned each week. Each student has a username and password and accesses course material by logging onto the university server. Since I am taking an IT degree, I oftentimes have to develop programs for homework assignments. I utilize programs such as Core FTP or FTP Surfer to either pull files off of the university server or to deposit them onto the server to hand in my assignments. For some courses I simply have to email an attached document to the teacher. There is also an optional "chat session" that the teacher moderates each week. This gives the students the opportunity to ask the teacher questions and to interact with the other students.
Now let's get to the benefits …
Convenience…
I think the best way to describe taking an online course is that it is convenient. Dictionary.com defines the word convenient as [note]suitable or agreeable to the needs or purpose; well-suited with respect to facility or ease in use; favorable, easy, or comfortable for use.[/note]

Once you get used to the technology of logging into the server, traversing the coursework links, using the FTP software, and how to interact with the professor and other students, each online class uses the same basic framework. After your first online class you are over that hurdle of figuring out how to get the information you need to do your work.

Logistical bliss…
If you have ever attended a college you certainly can understand that there are logistical issues that you must contend with. When I went for my first undergraduate degree many years ago, I commuted from my home to school and back each day. I remember having to contend with traffic and even having to find parking in the lots at the college. If my current degree was a traditional continuing education degree, I would have to drive to the college after work for class. I also don't have to worry about getting a parking pass or going to the bookstore since I can order my books online as well. Removing this logistical layer is truly a blessing when it comes to an online education. You can even carry this further and it gives someone who may be incapable of driving a car or physically incapable of leaving the house, an option to continue their education. Talk about liberating…
Interaction with remote students…
I have attended online classes with students on the other side of the world. There is usually a forum for each class where students can interact with each other. This can be done either in a private chat session, a class chat session, or an online forum where students can pose questions to other students or the teacher. You can imagine how attractive it is to the college offering the online classes because it pretty much opens up the world to signing up for their classes. This is analogous to selling products only in your state versus all over the world utilizing the far-reaching tentacles of the internet.
Effective Time Management…
I am a big proponent of managing my time effectively. If you check out these posts, Time Management 101 (guest post on WorkAwesome.com), and my last two posts on this blog, you will note that I am extremely cognizant of where my time goes. With an online course I can work on my homework when it is convenient (there's that word again). Typically I block out my lunch hour, move to a small conference room with my sandwich, and log into the university server. For my online degree, I don't have to actually attend a weekly class although you can optionally attend a chat session once a week. I find it helpful to attend the chat session because I may have questions about the homework assignments. I usually plan it so that I get home just in time so I can log into the weekly chat session from the comfort of my home.
In my next post I will detail what I consider some of the drawbacks of taking online education.
Please subscribe to my blog using the RSS link or email updates and follow me on Twitter.
If you enjoyed this post please click on one of the icons below and share the love.