This is a guest post by Tess Mathews. If you'd like to guest post on this blog, click here.
When a person's bio-rhythm is interrupted and the cyclic pattern of waking and sleeping is thrown into disarray, he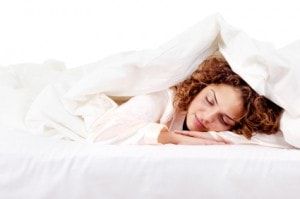 suffers severe mental and physical fatigue. One can never stress enough the value of a peaceful slumber.  Sleep disorders related to stress and physical ailments are extremely prevalent today.  Natural sleep aids, including some of the tips in this article, can help you attain restful sleep.  Follow these simple bedroom ideas to help you sleep well and wake up refreshed and ready to face the day.
1. Keep the colors in your bedroom muted and pleasant, whether it is the walls or the furnishings or the bed linen. Bright and vivid colors and patterns can tire your eyes and brain.
2. Clean and fresh-smelling bed linen is always more inviting than wrinkled soiled sheets. Change them frequently if need be. Use the right kind of sheets and quilts depending on the weather conditions.
3. Make sure the size of the bed is sufficient for you and your partner to sleep without elbowing each other. Indulge yourself and switch to a king size bed.
4. The mattress and the pillows too should be comfortable. Often, lumpy mattresses cause discomfort and keep you awake. Periodically change your mattress as it tends to develop depressions and soft centers. Try using a memory foam mattress if your mattress makes you toss and turn.
5. Ensure that there is no seepage of light or sounds from outside.
6. If you are the type that likes to go to sleep with music playing, then get a music system that has a 'sleep' provision.  Waking up just to turn off the music can disturb your sleep. Try to keep the television out of the bedroom. If one person were to watch, another cannot sleep peacefully. The flickering pictures would leave their images on the retina.
7. If your partner uses an alarm, choose something that is not strident but muted so that your sleep is not disturbed when he/she wakes up.
8. Make sure that the doors are oiled. If you have an adjoining bathroom make sure you don't have taps that drip. Persistent noises like a dripping tap can keep one awake. Throw out the old rattling fan or the noisy humidifier and gift yourself a quiet one.
9. If you feel the need for a night light use a low wattage bulb rather than a regular bulb. Sleep is natural to us in darkness and we should simulate that condition to the extent possible.
10. Above all keep the bedroom clean and neat. Avoid strewing clothes on the floor and on the furniture. Peace and harmony cannot be achieved in unclean ambiance.
If you follow these simple bedroom ideas to help you sleep well you might find that you will face each day with a renewed vigor and attitude toward life's challenges.
This guest article was written by Tess Mathews who is a freelance writer and a self-made home improvement expert. Apart from writing, Tess likes to read a lot, cook, travel and spend time with her pets. To induce a restful sleep in her house she enjoys her king size beds at home.
Please subscribe to my blog using the RSS link or email updates and follow me on Twitter.
If you enjoyed this post please click on one of the icons below and share the love.