This is a guest post by Nathan Forsythe. If you'd like to guest post on this blog, click here.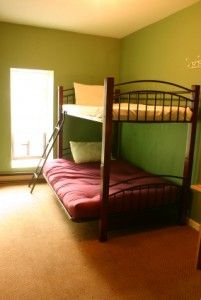 The small college space that is the dorm room is where you sleep, store your belongings, and have all-night study sessions. But you're also a design student. Design a room that reflects your aesthetic tastes and meets your lifestyle needs. Decorate your dorm room for inspiration and create a home space with panache by keeping in mind the following tips.
Technology
Mini Speakers
Mini speakers strategically located in a dorm room is an affordable extra that will give you the sound atmosphere you and your creativity will crave. Connect speakers to your laptop and stereo with a few extra cords and adaptors that a handy salesperson at Radio Shack can help you acquire. Whether you listen to the sound of rain or classical music, the right acoustics will enhance your designing talents.
Large Monitor
[sc:link_unit_right]
Skip a TV installation and buy a large monitor on eBay. Connect it to your laptop or desktop to create a mini entertainment center. Take your mind off academics for an evening of watching a movie and snacking on a bowl of popcorn. Expect your dorm room to be the hall hotspot where all your friends will want to hang during study breaks.
3-D Printer
For class or independent creative projects, equip your dorm with a 3-D printer that's economical and as amazing as it sounds. The printer generates paper shaped like the designs you create on your design programs. Creating origami party favors during your spare time at home is a lot more fun than printing your CAD assignments.
Sleep Apps
Among 8 a.m. classes, all-nighters, and midday napping, sleep schedules for the college student can be irregular. Sleeping is essential though for performing well on an exam or feeling creatively inspired. Sleep apps can ensure deep, unbroken sleep and have a positive effect on your physical, mental, and emotional well being. Download Pzizz, Yoga in Bed, Breathe2Relax, Naturescape: Relax Meditate Escape Sleep, or Gratitude Rock: Journal/Diary of Positive Thoughts to get your rest.
Decor
Designer's Desk
A designer's desk should be a personalized, creative space. Include small inspirational toys and objects, a digital device docking station, and photos of friends and family. Displaying work from a design hero or role model will help you stay motivated when school gets tough. Netmagazine.com offers workspace design inspiration and showcases workstations of 20 leading Web designers. You'll find highlighted luxuries such as a MacBook Pro plugged into a vintage cinema display, Creative Gigaworks speakers, and a LEDU drafting lamp.
Wall Art
A mural or wall art will eliminate the drab and uninspiring murkiness of dorm room walls. Check out free stencils from www.wallandmural-stencils.com and recruit friends, family, or new roommates for a fun-filled day of decorating bare wall space.
Space-Save
[sc:link_unit_right]
Look at the small space of your dorm room as a design challenge. Imagine yourself living in a small urban apartment after graduation so practice your home decor expertise within the dorm room. Include all of the features you need, but decorate vertically and upward toward the ceiling, rather than outward. BHG.com's space-saving recommendations include compact and slimmed-down furnishings, white and light colors to create the illusion of spaciousness, and adding mirrors.
This guest article was written by Nathan Forsythe who is a father of two residing in Virginia. He works in the finance department for a large publishing company, and spends a lot of his spare time writing about financial planning. He also writes for the www.internetserviceproviders.com blog.