This is a guest post by Melissa Crossman. If you'd like to guest post on this blog, click here.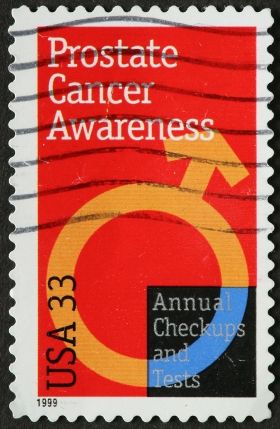 February is National Cancer Prevention Month. This makes it a great time to brush up on ways to keep this dreadful disease at bay. Prostate cancer is one of the most common types of cancer to affect men. Therefore, men should take extra care to lower their risk of contracting this disease. While nothing can guarantee prevention of prostate cancer, there are many things you can do to lower your risk.
Eat right and exercise regularly
A healthy body is better equipped for fighting both smaller health issues and more complicated ones. And a healthy body includes a healthy mind, one that's focused and ready to use resolve when faced with making good decisions about what to eat and drink, when to exercise, and how to behave.
Quit Smoking
According to cancer.gov, smoking is a risk factor for some cancers, including prostate cancer. It can be avoided. But even better than cutting out risk factors, is pairing that with "protective factors" like exercise and a healthy diet. Avoiding risk factors and increasing protective factors will work together for a maximum health benefit.
Increase sexual activity to at least five times a week
Not only is this good exercise, but according to an Australian Study led by Graham Giles, Ph.D., it turns out that those who ejaculate frequently have a 34 percent lower risk of getting prostate cancer. It is speculated that seminal fluid contains cancer-promoting elements, so flushing it out regularly is a healthy thing to do. Ejaculating more than once a day, unfortunately, doesn't further lower your risk.
Eat lots of garlic or scallions
A study published in the Journal of the National Cancer Institute says that those who eat the equivalent of three cloves of garlic or two tablespoons of scallions every day have a 50 percent lower chance of contracting prostate cancer. This amount is equal to two grams of either food. Just remember to carry a toothbrush.
Chug that coffee
According to a study published in the Journal of the National Cancer Institute, drinking at least six cups of java a day can reduce prostate cancer risk about 20 percent. So head out and buy yourself a single cup coffee maker or look into creating your own unique brew with pour over coffee. The risk of developing the deadlier form of prostate cancer drops a whopping 60 percent if you up your coffee intake. Even better news is that it doesn't have to be caffeinated.
Drink Pomegranate Juice
Don't like coffee? Try pomegranate juice. According to a study presented at the American Urological Association, this juice slows the progression of prostate cancer by slowing the progression of PSA levels. PSA levels are measured in prostate cancer screenings to monitor the health of the prostate or, if diagnosed, the progression of
prostate cancer. In this study, the PSA levels of a group of men treated for prostate cancer were doubling every 15 months. After drinking 8 ounces of pomegranate juice each day for up to two years, PSA levels took four times as long to double. If prevention means keeping PSA levels down, drinking pomegranate juice could be very valuable.
By taking the right precautions, men can greatly lower their risk of prostate cancer. Implement risk reduction strategies and pair them with protective factors, so you have the best possible chance of remaining healthy.
This guest article was written by Melissa Crossman is a recent college graduate who lives in Indianapolis with her two cats.
Please subscribe to my blog using the RSS link or email updates and follow me on Twitter.
If you enjoyed this post please click on one of the icons below and share the love.