This is a guest post by Andrew Exon. If you'd like to guest post on this blog, click here.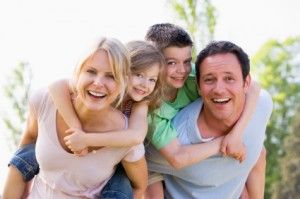 When I was younger, I believed that if you taught your children to behave, they would, and behavioral problems were solely due to how you chose to discipline your child.
At least this is what I believed until I carried my 3 year-old first born son, kicking and screaming, out of Walmart. I had become a failure to my own illusion.
As a result, over the past decade I have found myself agreeing with these words spoken by John Wilmot,
"Before I got married I had six theories about bringing up children; now I have six children and no theories."
In light of this statement, I have six parenting tips to assist in raising children.
1. Parent each child differently
When children are born, they are born with their unique emotions, character, and potential outlook on life. For example, our first son didn't like anyone wrestling with me. When my brother would come over and tackle me he would begin to cry. My other sons have loved seeing their uncle tackle their father, and then want to join in, and tackle him too.
These unique characteristics are directly connected to their disposition, or their tendency to act a certain way. This is why we have prodigies. This is why some children are more prone to cry, others are more prone to smile, and others seem to be more prone to be bullies.
In order to be successful and do our best as parents, it is very important that we learn and understand our children's unique dispositions. Because all children respond to their surroundings differently, we need to take that into consideration as we guide, teach, and discipline them.
2. Think before you react
The ability to relax does not equate with a negligent or indulgent parenting style. As parents, sometimes we overreact to our children's behaviors. They may say something, or do something, that triggers a poorly thought out knee-jerk reaction. However, if we had taken a moment to relax and think clearly, then our emotions would not control our immediate response to their actions.
When we relax, our mind is clear, our emotions can be checked, and our response (discipline or instruction) is now measured through a sober mind and intellect.
3. Pay attention to your children's teachers
We all probably have memories of teachers we truly enjoyed and teachers we did not. I remember as a first grader, my teacher privately spoke with my parents regarding my behavior problems in class. Through the course of this discussion, it was resolved that I would be put on a behavior plan. At the end of the day I was given by my teacher one of three faces: smile, frown, straight.
When I returned home with a smiley face my parents were happy. When I returned home with a straight face my parents discussed with me the importance of paying attention and behaving in class. When I returned home with a frown face, I was surely disciplined. If I received 10 smiley faces in a row, my father took me to the ice cream parlor down the street (how I loved their malt shakes).
Our teachers are a great resource for parents to help their children to learn proper behaviors in specific circumstances. Teachers generally have your child's best interest in mind, so listen when they point out problematic behavior and work with them to correct it. Attend parent/teacher conferences and really consider what the teacher is saying. If you feel that your child's teacher is not responding well to your child, meet with the teacher to discuss what you expect. If you are unable to work something out, consider switching to a different teacher.
As for me, I have found it profitable to ask all my children's teachers how they have behaved in class. If they mention some concerns, then I speak with my children, and take the opportunity to teach them how to act appropriately when in class. When a teacher mentions something, I always ask, "How often is this occurring?" If the incident has only occurred on random occasions then I hope the teacher will be patient. If it is happening often, I address the issue with my children before it is too late.
4. Be firm and friendly in your discipline
I was first introduced to the idea of disciplining with a firm but friendly hand while I was attending college. Finding the right balance between harsh discipline or indulgent acceptance can be a bit tricky. However with patience, actively practicing a firm but friendly parenting style will have a great impact on your child's behavior. Some aspects of firm but friendly parenting are:
Friendly
The ability to say you're sorry when you know you acted harshly, or too quickly to a specific circumstance. An apology is not a sign of weakness. Apologies strengthen relationships with children. Children are also simultaneously taught that when they are wrong they need to apologize also.
Show affection. Sometimes when we discipline we leave the child alone and remove our affection from them. Remember, it is not our emotions that teach the child, but it is the mind and feelings of the child that really cause change.
Firm
A parent is in control of their emotions the whole time disciplining. They are not overly-emotional, which tends to lead toward aggressive parenting.
Discipline the action, not the child sharply. Sharply can be described as "before it is too late." Sometimes we withhold our discipline thinking the issue will resolve itself, or fear of offending the child. It is far better to act sharply, in love, then to not act at all and hope the child will recognize the error themselves. Children do look to their parents for correction and discipline.
5. Spend one-on-one time
What says we love our children more than by spending time with them one-on-one? Our children love earning an outing with Mom or Dad. The outing may be as simple as going to the store and buying doughnuts.
It is as Anthony P. William once said,
"Children spell love… T-I-M-E."
6. Show genuine interest
When children realize that their parents are involved in what they do for fun, they are more likely to recognize that they have parents who love and care for them.
When my son was in second grade he began reading the book series, "The Secrets of Droon", I began reading them with him. After each book I would ask him what he liked about the book and I would tell him what I liked. Sometimes I would even use the books wordage to help him build character. For example, in the first book the heroin once said, "Some things are not supposed to be fun, they are supposed to be done." When my son would begin to exercise a little frustration about doing chores and would complain that he wasn't having fun, I would remind him, "Some things are not supposed to be fun, they are supposed to be done." He typically responds with a smile and then does what has been asked.
Raising children isn't easy but if you follow some of these six parenting tips, hopefully your children will realize that you've tried your best to be good parents and that they are the most important people in your life.
This guest article was written by Andrew Exon who works for PMA Media Group, an organization committed to excellence and assisting eligible students to locate and become familiar with the BestOnlineColleges.org. His passions in life are spending time with his wife and 5 children, fly-fishing, and other hobbies.
Please subscribe to this blog using the RSS link or email updates,follow me on Twitter, or on Pinterest.
If you enjoyed this post please click on one of the icons below and share the love.