This is a guest post by Jessica Garland. If you'd like to guest post on this blog, click here.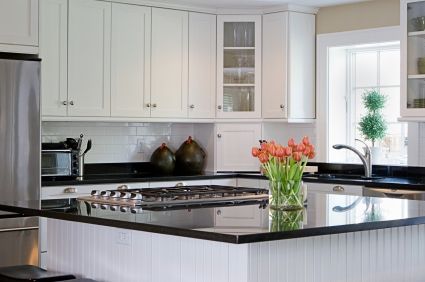 In an already over-stimulating world, household clutter can really begin to take its toll. Our homes can provide an oasis from the hustle and bustle of everyday life with some smart organizational techniques by following a less is more mantra.
In the kitchen, it's hard to strike a balance between practical and organized. You want your kitchen to be efficient, but you also want to keep it clean and organized at the same time.
Trying a few of these simple solutions to organize your kitchen as well as some cleaning tips for the home, can help households create a balance between organized and useful.
Kitchen Canister Sets and Utensil Holders
It is important that you always have the ingredients and utensils that you use regularly in the kitchen at your disposal. Kitchen canister sets are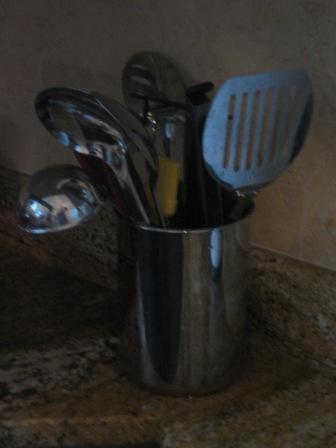 not only decorative but they are great for storing your regularly-utilized dry ingredients including flour, sugar, bulk salt, baking soda, and baking powder.
A kitchen utensil holder is something that is a must on any countertop or kitchen island. You can store your utensils such as your spatula, wooden spoons, ladels, metal serving spoons, and tongs in a decorative utensil holder that will match your existing kitchen decor. Having these utensils easily at your disposal will prevent you from having to search for them when you need them quickly.
Appliance Garages
A very handy and popular feature of many remodeled kitchens these days is the use of appliance garages. This feature in your kitchen allows you to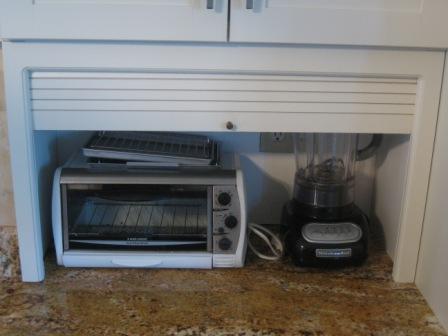 store appliances such as your coffee maker, blender, or standing mixer behind doors until you need to use them.
An appliance garage will yield a nice clean and uncluttered look to your countertop area. The garage shown here includes louver doors which roll up into the wall above and pull down to cover up the toaster oven and blender in the garage.
Waste Management
Kitchen trash, recycling, and compost containers are necessary, but they take up valuable room and add to the chaos. Rollout garbage compartments keep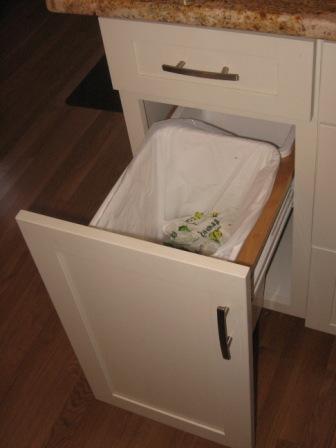 waste hidden and kitchens organized.
You end up losing some cabinet space but the added feature of having the trash bin behind closed doors is worth the loss of cabinet space. It is not uncommon for the latest kitchens to have an option for managing waste out of sight and out of mind. These pull-out trash can cabinet units can be purchased separately and incorporated into an older kitchen as a DIY project.
See-Through Cabinet Fronts
Clear or opaque cabinet fronts allow you to store your cookware, glassware, and dinnerware in your cabinets but still easy to locate, especially for guests who may be unfamiliar with your kitchen.
Clear cabinet doors help keep items on display without turning them into dust collectors on your countertop, although some contemporary kitchens are opting for no cabinet fronts at all. Frosted glass or brushed glass cabinet fronts are also an excellent option as you will not easily see everything inside but it will be visible enough for you to recognize what is there when you need it.
Your kitchen is the most frequently used room in the home. Decluttering your kitchen provides an opportunity to keep your home clean, organized, and relaxing. Making some simple kitchen design upgrades for the home can take your kitchen from chaotic to calm.
This guest article was written by Jessica Garland, a freelance writer who enjoys organizing, shopping, and tennis.
Please subscribe to my blog using the RSS link or email updates,follow me on Twitter, or on Pinterest.
If you enjoyed this post please click on one of the icons below and share the love.