This is a guest post by Jennifer Carrigan. If you'd like to guest post on this blog, click here.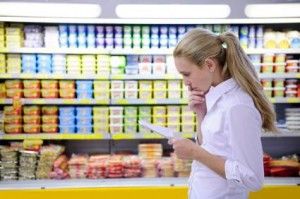 If you watch television, you have probably seen the show Extreme Couponing. However, the average shopper does not need to shop this way in order to save money. Coupons can obviously help, but there are other methods that you can implement.
Smart shopping means buying only items as they are needed, in the volume needed. By implementing this philosophy on a regular basis when you head out to the supermarket, it is entirely possible to keep a monthly budget under control.
Shopping Realistically
Most families truly do not need to stock up on hundreds of cans of tuna or buy two dozen bars of soap when they are shopping. In fact, very few families have the space to store the amount of items that people who are fervent coupon shoppers buy.
Although coupons certainly have their role in saving money, savvy shoppers know how to save money by limiting their purchases to exactly what they need, when they need it. In business, this form of shopping, or inventory management, is called just in time production management. Companies only buy items as they are needed, when they have an order from a customer. Consumers can easily adopt the same buying philosophy to save money.
One approach is to keep a running shopping list. Items are placed on the list as they are running out. For example, if there are only one or two rolls of toilet paper left, it goes on the list. A weekly run to the store can be an opportunity to buy the few items that are almost gone, only in quantities needed until a larger planned shopping trip. A larger planned shopping excursion can happen once or twice a month to buy larger quantities of items that run out more frequently or to provide them for the next few weeks or the entire month.
Shopping Strategically
Another approach to saving money during large shopping trips is to shop strategically. If you live in an area where there are several similar stores in a short distance from each other, look at the local paper to find out what is on sale from your list before you go shopping. You can also comparison shop by looking up items online.
If you decide to use coupons, look for coupons online or in the newspaper. Look for stores that offer double coupons to save even more money. Keep in mind that you should only buy items in large quantity if they will be used within a short period of time and are really needed. Make up a list for each store and only buy the items for that store. It is important that the stores be in close proximity to avoid spending your savings on gas going from store to store.
There are other times when shopping strategically can pay off and save money. When looking for birthday, holiday, or other gifts consider comparison shopping online. Often, you can find better prices from online sources and many companies offer free shipping. Also consider auction sites, where many items are sold brand new with free shipping.
Team Shopping
If you are very taken with the idea of guerilla shopping tactics and using coupons to save money, consider joining forces with friends to pool your resources. You can meet monthly and decide what items to buy together. Compare lists to see what everyone needs and only include products that are on multiple lists.
Then gather coupons to buy only the number of items needed to meet everyone's needs. If you decide to use this approach to shopping, it is important to calculate the per item cost, including tax, and collect that money from each buyer.
There are many ways to save money and stretch your shopping dollar. Limiting purchases to only the items needed is one important method for managing your monthly budget and keeping costs under control. By practicing smart shopping habits, you can make sure to have enough money available to get through each month and pay all of your bills.
This guest article was written by Jennifer Carrigan on behalf of Kanetix, where you can learn what a budget is worth in this economy..
Please subscribe to my blog using the RSS link or email updates,follow me on Twitter, or on Pinterest.
If you enjoyed this post please click on one of the icons below and share the love.