This is a guest post by Chris Stanbridge. If you'd like to guest post on this blog, click here.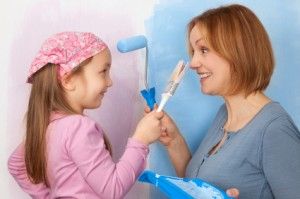 Decorating a room based on a theme adds life to a room. A themed room is unique in its styling and has a personality of its own. The best thing about themed rooms is that it lets you express your imagination and creativity. Room theme ideas can revolve around a color, a country, an era, or a movie. The challenge is yours to take. Room decorating ideas for working around a theme is both fun and challenging. However, you need to tread carefully to avoid over doing anything. Remember, the room you are decorating on a theme is part of your house and, at the end of the day, it should feel like it. Choose a theme to which you can relate. Avoid following a fad simply because everyone else is doing it.
Selecting a themed room
A theme helps to set the mood of a room. Bedroom decorating ideas are numerous but for this space it makes sense to go for a theme that has a calming effect. Anything garish and loud will make you hate the theme in a couple of days. For a children's room, you don't have to pick the room decorating ideas.  You should give them the freedom to choose a theme all by themselves. This is a great way to express their creativity. The theme should be in sync with the room's functional purpose.
Follow the theme
Don't deviate from a theme once you've decided upon one. Keep the theme in mind when purchasing furniture and accessories for a room. Make sure that all your purchases have a unifying theme. This is the most important rule for theme decorations. The purchases you make are likely to be expensive so avoid making any purchases that later look out of place and make you regret you decision.
Shopping for the theme
It is vital that you buy your furniture and other accessories such as curtain, carpets, and rugs first as it's easier to match paint and flooring with furniture than trying to match items that match your paint. Avoid the impulse to get your walls painted and decorated before making other major purchases. This will prevent the chances of any deviation from the theme.
List your essential accessories
No theme is complete without the essential accessories. Search online to find out exactly what you need to complete the effect of your themed room. There are many websites which offer great advice and insight on different themes. Make a list of items that you need before visiting your favorite stores to avoid buying unnecessary or irrelevant items.
Add your own personal touch
No matter what your theme, don't forget to add your personal touch. This will make your themed room uniquely yours and not look like something copied straight from a home décor magazine. Carefully work on the details to enhance the theme.
Room decorating ideas, when it comes to creating a themed room, must be carefully considered.  If you are diligent in your selection process, follow the theme closely when purchasing furniture and the essential accessories, and add a personal touch, you will be thrilled with your new themed room for many years to come.
This guest article was written by Chris Stanbridge who has been designing interiors for over 10 years. Chris specialises in French furniture and especially french provincial tables.
Please subscribe to my blog using the RSS link or email updates and follow me on Twitter.
If you enjoyed this post please click on one of the icons below and share the love.