This is a review of an eBook, entitled Make Money Blogging, by one of the foremost bloggers out there in the blogosphere, Daniel Scocco.  Daniel runs a small (tongue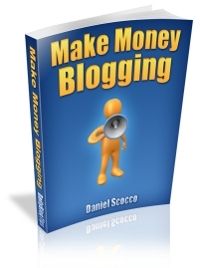 firmly planted in cheek) blog called DailyBlogTips. One of his goals is to hit the 50,000 subscriber mark by July 21st.  I've been extremely fortunate to have been able to guest post on DailyBlogTips.  My guest posts on his blog were entitled Top 5 Blogging Misconceptions and 5 Reasons to be Critical of other Bloggers. If you want to generate traffic on your site, submit a guest post to Daniel.  If he accepts it, consider yourself honored. You will also be amazed at the reach of his blog and the traffic it generates.  Make it a killer post though.  The link to your guest post may travel like lightning throughout the blogosphere.
I recently downloaded a copy of Daniel's eBook, and found it to be very interesting and informative.  Some common mistakes bloggers make are referenced to by Daniel:
1. Making a blog gravitate around you.
2. Covering too many topics in your blog.
3. Choosing a niche you are not passionate about.
4. Many people create many blogs and try to manage them.
I feel that all of these make sense.  Of course you will always find exceptions to these rules.  For example, one of the most popular blogs out there is called Dooce, which evolves around Heather B. Armstrong, who was fired from her job back in 2002, for writing in her blog about her job.  I tend to agree with Mistake #2 but am probably guilty of it on my own blog.  But I do feel that I have a niche and that is in delivering solutions and tips for the everyday problems in life.  Bloggers must write about topics they are passionate about so I agree completely with Mistake #3.  Mistake #4 is interesting because in some places you read that the best way to make money is to have multiple sites so that you can potentially dovetail one into the other and could possibly make money with every one of them.
Killer Articles
Daniel talks about writing killer articles and I agree that these types of articles are very powerful.  I wrote one killer article in particular and it is entitled: How to get your child into their first choice college.  It ranks very well in Google.  This article took a ton of time to compile and put together but it was all worth it.  It helped me go from a pagerank 0 to pagerank 3 in one cycle and it continues to be one of my most highly-read articles today according to my analytics.
Headlines
As Daniel alludes to, a headline is so important in your posts.  Daniel mentions that the headline is so important because it is the first thing that your visitor will see.  And it could be their last, if it doesn't pique their interest.  Daniel tells us about a tool that I had never used called the Google AdWords Keyword Tool.  This tool will give you a good idea of how people are searching certain keyword phrases.  As a result, it will give you a better idea of how to word your headlines. Daniel also gives us examples of headlines that work and create an emotional hook.  Concrete examples are given throughout this eBook which is a testament to Daniel.  If there is one thing that bloggers are looking for is examples of best practices in the blogging world.
Posting Frequency
This is one factor that new bloggers can have a hard time with.  How often should I post?  Daniel points to the fact that, if there is a choice, choose quality posts over frequency.  Daniel suggests that you should, at a minimum, be regular in your posting interval.
Design
Daniel goes into the design of your blog.  He mentions that there are many WordPress themes out there that are customizable.  He also mentions that if you are going to spend money on something, spend it on the logo.  I concur wholeheartedly.  In fact, I paid a graphic artist to design my logo and I am very happy with the look.  It is important in that your logo is your brand and your brand is SO important in the blogging world.  You want to be recognizable and your logo goes a long way to that end.
Showcase your Content
Daniel talks about how important it is to show off your content.  You can create a Popular Articles section in an area on your blog, like the sidebar.  I have this section in my sidebar and what I have found from my analytics is that it works.  People read these posts first.  You can also have a page that is solely meant to list your most popular articles.  My opinion is that it is a better strategy to have the Popular Posts in your sidebar so that a reader doesn't have to go into a specific page.  The less clicks the better…
Networking
Daniel has a whole chapter on networking.  He talks about how important it is to collaborate with other bloggers in your niche.  He says you should identify and contact directly other bloggers in your niche and tell them that you will recommend them to others.  Also, you should link to their blogs if you expect reciprocation.  Also, tell others when you publish killer posts and, chance are, they could link to your post.
Promotion
As I mentioned earlier, when I wrote my first guest post on DailyBlogTips it was called Top 5 Blogging Misconceptions.  In this post, the first misconception I wrote about was entitled: If you write it they will come.  The point was that you could be writing great content, but if no one knows about it, is it really worth it?  You must promote your blog.  Daniel mentions many ways that you can do this.  You can promote your blog through commenting on other blogs, guest posting, social bookmarking sites, and social networks.
Monetization
The main point about monetization that Daniel wants to make is that monetizing should be the final step in the blogging lifecycle.  You need to have top-notch content, high traffic, a loyal audience, and a clean design before you even decide to place ads.  He talks about the different methods for monetizing such as Google AdSense, CPM Ads, direct advertising, affiliate marketing, and email marketing.  Daniel talks about building email lists and services that offer email marketing.
Daniel leaves us with the fact that your blog is your connection with the internet and with the world.  You can use its reach and audience to launch a new product, network with others, and venture into new projects.  Daniel has put together an interesting and informative eBook on blogging and what you can do to make it grow and potentially make money.  Believe me, Daniel Scocco knows of what he speaks.  You cannot go wrong in taking the advice of one of the preeminent bloggers of his time…
Please subscribe to my blog using the RSS link or email updates and follow me on Twitter.
If you enjoyed this post please click on one of the icons below and share the love.