This is a guest post by Madison Parker. If you'd like to guest post on this blog, click here.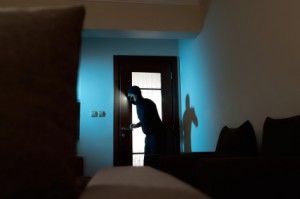 Let's be honest, not every home needs a security system. Some homes just aren't at a high risk for home invasion. Other homeowners might like to have a security system, but can't afford it. Still others don't want to deal with the ongoing monitoring fees involved in a security system contract.
Whatever the reason, not having a home security system doesn't mean your home has to be unprotected. There are a number of measures you can take that will help to secure your home without breaking the bank.
Here are 5 ways to lower the odds that your home will be burglarized without paying for a security system.
1. Identify and protect your points of entry
Home security starts with a good hard look at your home. You need to figure out exactly where and how a home invader might try to get in, and then protect those entry points. That means identifying windows and doors that can be entered from the ground, and making sure they're locked or otherwise secured at all times.
2. Don't give burglars a place to hide
Large shrubs or bushes underneath a window are a home invader's dream. They can simply dive into the bush, reach up and open the window, and gain entry to your home. Accordingly, you need to give some serious consideration to your landscaping. Make sure that every point of entry can be clearly seen from the street.
3. Scare off burglars with a large dog
Now, we're not suggesting you go out and buy a Mastiff or Doberman if you don't already have a dog. However, just because you don't actually own a large dog doesn't mean you can't make a home invader think you do. Place a large dog bowl on your porch, and sprinkle just a little bit of kibble in it. Maybe add second bowl with a little water. You can even go as far as to put a stake and chain in your yard, or drape a large leash across your railing.
4. Put some fear into the burglar
You might be a 98-pound weakling, but a home invader can't be sure of who else might live in your home. Place a pair of worn men's boots, preferably size 13 or larger, on your steps. These are easy to find at a secondhand store, and will give many home invaders pause before trying to enter your home.
5. Make it look like you have a security system
There are a number of measures you can take to convince criminals there is a security system in your home, even if there's not. Home security signs and stickers are a good choice and fake security cameras can work well in some cases.
Ultimately, you need to do everything you can to secure your home. While not every home needs a security system, every home does need to be protected. Consider taking some of these measures to protect your home today.
This guest article was written by Madison Parker who is a security expert whose passion for helping others ramp up their own security led to the creation of HomeSecuritySystems.
Please subscribe to my blog using the RSS link or email updates,follow me on Twitter, or on Pinterest.
If you enjoyed this post please click on one of the icons below and share the love.