This is a guest post by David Rodwell. If you'd like to guest post on this blog, click here.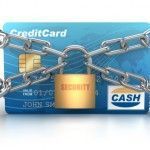 Today's thieves are crafty. They don't simply bump into you while you're walking down the street and lift your wallet; they write computer programs that steal your credit card information, or they use advanced technologies like skimming to get your financial data. If you want to protect your credit card accounts from these kinds of nefarious criminals, here are some immediate and practical strategies you need to implement to protect yourself from credit card fraud.
Learn about skimming
Skimming is one of the newest ways that identity thieves are getting to consumers. It involves acquiring your credit card information via the card itself. For example, a skimming device might be installed at your local ATM. You take out some cash, and suddenly the identity thief has your credit card information. Report any suspicious-looking ATM modifications to your bank right away, and avoid using a suspicious-looking ATM.
Be diligent about online safety
The fact of the matter is that buying online isn't the most dangerous place to use your credit card. (That honor falls to hotels and restaurants, believe it or not, and we'll look at that phenomenon in a minute). But, there are still dangers. Learn to recognize a secure transaction at a website, such as seeing the HTTPS in the address bar indicating that SSL is being used. Also, always check a site's reputation before buying for the first time.
Check your statements
Identity thieves don't always charge up hundreds or thousands of dollars on your card all at once when it comes to credit card fraud. Sometimes, it's as simple as a recurring charge of $5 a month. Spread out over a couple thousand identity theft victims, this really adds up. Contact your credit card company about anything on your statement that doesn't quite match up.
Watch your cards
This seems like common sense. Don't leave your card laying around where an identity thief can get to it. However, there are some situations where you hand someone your card and they take it away for several minutes. During that time they could be skimming the card, they could be taking down the information, or they could be making fraudulent charges. The two worst locations for this are – you guessed it – restaurants and hotels. Consider paying cash whenever possible.
Be mindful of statements and receipts
Today's credit card receipts no longer print the entire card number (thankfully). However, some identity thieves have had success taking just those last four digits and, when combined with a searching program, coming up with your credit card number. Shred your statements (or go electronic) and properly dispose of any credit card receipts.
Now, doing these things won't guarantee your safety. Some identity thieves get your information by stealing it from companies you do business with, or through other nefarious means. Follow these steps, however, and you'll eliminate the vast majority of opportunities for credit card fraud that identity thieves will have. Be smart about how you manage and protect your credit card, and you'll discover you're protecting your identity at the same time.
This guest article was written by David Rodwell who writes about subjects including business and economics. Check out his site CreditCardProcessing.net!
Please subscribe to my blog using the RSS link or email updates and follow me on Twitter.
If you enjoyed this post please click on one of the icons below and share the love.