This is a guest post by Dan Whiteside. If you'd like to guest post on this blog, click here.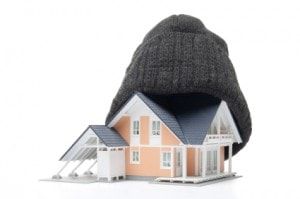 As the days get colder and the leaves fall from the trees, one thing is clear – winter is rapidly approaching, so it's important to prepare your house for the cold spell.
It's always smart to be prepared in all parts of life and especially when it comes to taking care of your home which is probably your biggest investment. Here are four simple steps for preparing your house for winter.
1. Emergency Insurance Coverage
What would you do if your house got destroyed by extreme weather conditions? If you are not sure, it's time to consider taking out home emergency coverage with a company like HomeServe. This will give you a financial safety net if anything happens and will put your mind at ease when there's wind, rain, and snow. When taking out an insurance policy, it's good to know that your house must be insured for the amount of money it would cost to rebuild your home from scratch including surveys, architectural fees, and legal costs.
2. Protect your Plumbing
During winter, the water in your pipes can freeze. This can cause your pipes to burst or leak, so you must take precautions in advance. Before the mercury drops, buy some decent insulation from a reputable home store and insulate your pipes.
You should be able to do this yourself, but if you don't feel confident, call a plumber for help and advice. Fitting a British Standard insulating jacket around your hot water heater/cylinder will also keep your hot water warmer for longer, helping you to save money in the long run.
3. Insulate your Walls
The economic climate is difficult to navigate at the moment, but if you can, it's worth insulating your walls. This will stop the majority of heat from traveling through the walls to a colder environment and ensure your house stays warm and snug. The type of insulation used will often depend on the type of walls you have, so don't be afraid to ask a surveyor to see your property. Cavity walls are usually filled with mineral wool or beads and granules, whereas rigid insulation boards are usually fitted to solid walls.
4. Draft-Proof your Home
According to the Energy Saving Trust,
draft-proofing your home is one of the cheapest and most-efficient ways to save energy
. A well-ventilated house can reduce condensation and moisture, but if there's too much cold air blowing around it can become rather uncomfortable, so you must take action. Start by sealing up all drafty doors and windows and buy insulation for your mailbox and keyholes. If you have thin curtains, you might also want to attach an insulated backing to help lock the heat in.
A little preparation will save you money and keep you warm this winter, so it's worth getting a jump on the season and take some actionable steps to prepare your home.
This guest article was written by Dan Whiteside who is a Business entrepreneur and money saving expert.
Please subscribe to my blog using the RSS link or email updates,follow me on Twitter, or on Pinterest.
If you enjoyed this post please click on one of the icons below and share the love.