This is a guest post by Lynn Maleh. If you'd like to guest post on this blog, click here.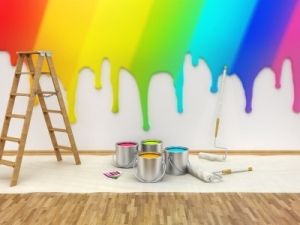 If spring cleaning is getting you down, just think of all the ways you can spruce up your living space once you've gotten rid of that pilling dust and excess clutter. With new spring sunshine pouring through your windows, you'll no longer be able to hide dirty walls and lackluster décor. So why not consider reinventing your home with paint? Check out some of the following simple and affordable paint-based home-brightening tips.
Stenciling
Wallpaper, Venetian plasters, and other decorative effects can be expensive, time consuming, and difficult to perfect, especially for those who aren't artistically inclined. So if you're looking to add some texture to your walls, wall stencils can be a convenient alternative. Stencils for walls are affordable and regularly available at craft stores (like Michaels), home good suppliers (like Bed, Bath, and Beyond), hardware chains (like Home Depot and Lowes), and general superstores (like Target and Walmart).
Remember when you stenciled as a child? Whether you were a da Vinci-in-training or paint brush impaired, the end result was always impressive. The same goes for home stenciling. Simply use a stencil to outline a pattern and a no-fuss paint sprayer to set it in color. Pastels are great for spring, bold tones will last through the summer, metallics (like gold and silver) add a regal effect, but generally anything that will pop against a white wall will add the drama and change you've probably been craving.
Floral stencils are always popular and animal patterns are great for kids. Murals can create entire atmospheres, such as a white picket fence on a sunny day or an Italian veranda. Add philosophy to your life by stenciling a quote, line of scripture, word of wisdom, line of poetry, or bit of humor onto your wall. Growing up, my best friend's mother (who had excellent taste) stenciled "never enough thyme" in a cursive font, underneath the clock on their kitchen's red accent wall.
Reconsider Color
Spring makes us reconsider color. Suddenly, the sky is blue, the grass is green, your skin is tan, and the tulips are pink and blossoming. So why not reconsider color in your own home? Before you stress out about calling the painters, realize you don't need to paint an entire room to add a splash of color to the space. An accent wall can add depth to your room and make your framed artwork really pop.
For an easy color fix, consider painting only one element in a room, like the window blinds below. Notice how the blue adds both energy and peace to the space. If you're not one hundred percent confident in your painting skills, practice on your cheap Ikea furniture. Not only will the bright colors reinvent the bland Ikea pieces, but in the worst case scenario, you won't feel too terrible if you have to toss them out. Just remember – you can't really go wrong with paint, because you can always paint over mistakes!
Bring spring indoors this year with unique paint effects. Although all of the above methods are simple, quick, and affordable, they will add long-lasting vibrancy to your home – something you can't put a price on.
This guest article was written by Lynn Maleh who is a freelance writer.
Please subscribe to my blog using the RSS link or email updates and follow me on Twitter.
If you enjoyed this post please click on one of the icons below and share the love.