This is a guest post by Melissa Crossman. If you'd like to guest post on this blog, click here.
Being accepted to college and starting on a career path can be one of the most exciting times in a person's life. Backpack full of books and freshly-printed schedule in hand, the world and all its possibilities unfold. Though new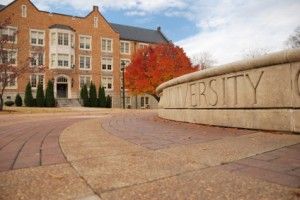 and exciting, a degree program has to complement a student's needs, whether s/he is pursuing an associate degree in nursing or transferring credits to begin working on a bachelor's. Much like a new outfit, the program simply has to be the right fit.
Every degree program comes with its highs and lows, from finding a mentor in a professor to slogging through a required but less-than-pleasant course. Students should be aware of issues that might truly impede their progress, such as a lack of available courses to complete a degree or an academic advisor who never returns emails. Perhaps the problem is simply that the program is different than it was advertised; even a few 'surprise' requirements can delay graduation by a year or more. What may not be a big deal to a freshman just beginning his/her academic journey can be crucial to a junior or senior whose academic future is based on a set graduation date.
Entirely possible, especially given the current economic climate, is the chance that a student can no longer afford to pay tuition. Scholarships and grants provide a great boost, but aren't always available or awarded. Financial aid, based on a student's need, might only cover a portion of classes or not be disbursed at all if the parents' income exceeds a fixed limit. Students, who are likely already pursuing some type of employment, might consider potentially cheaper options, such as pursuing an online degree or attending a community college. While attending school full-time is quicker, forging an alternative path might be necessary.
Years spent in school are bound to change a student's worldview. It's entirely possible – and even probable – for a learner to change his/her academic direction, from declaring a minor to changing their major entirely. For any number of reasons, a student who always wanted to be a doctor may realize they would rather pursue a career in nursing. What sounded good as a freshman, such as attaining a Master's degree or Ph.D. following graduation, may no longer be appealing. When preparing to make a move from one's degree program, it's important to be flexible. What seemed set in stone a month or a year prior may no longer apply.
As the saying goes, the world is one's oyster. If one opportunity doesn't work out, try on another. There's no sense in continuing to pursue a degree that feels wrong or is no longer interesting. Regardless of whether one's academic courses are different than described or the academic climate too tough to weather, it is both acceptable and necessary to travel in a different direction. Paramount to success in college – and life – is accepting that things can and will change, often for good reason.

This guest contribution was submitted by Melissa Crossman, a recent college grad who enjoys cooking, traveling, and playing sports. She is relatively new to the blogging world and writes tips for current college students, college graduates, and jobseekers..
Please subscribe to my blog using the RSS link or email updates,follow me on Twitter, or on Pinterest.
If you enjoyed this post please click on one of the icons below and share the love.