This is a guest post by Phil Binks. If you'd like to guest post on this blog, click here.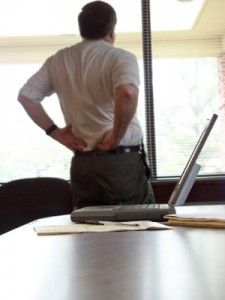 Back pain and injuries are one of the most common reasons to be out of work and even the slightest injury could cost you, not only in the short term, but for years to come. Back-related injuries could even affect your long-term ability to keep down a job.
So how do you look after your back while at work and avoid potential back injuries? The first thing you can do is remember that staying active and keeping mobile helps to keep your whole body strong and healthy.
Long periods of inactivity can weaken the back muscles allowing you to become injured more easily and exacerbate any pre-existing conditions.
Office Layout is Important
If, like many people, you have a sedentary occupation such as working in an office, this can be difficult! That's why it's vital to ensure your posture, chair and screen position, and the layout of your office equipment are tailored to suit you and your individual requirements.
For example, taller people may require a chair with a higher back to provide additional support, whereas shorter people may need a foot stool to make sure they can reach everything without straining. If you need guidance, ask your employer for a workplace assessment to evaluate your ergonomic needs and make sure you have everything you need.
Pace of the Job can be a Factor
The fast-paced nature of many industries, such as retail, can lead to injuries. Moving too fast and cutting corners when handling materials and stocking shelves are a major contributing factor to accidents and work-related back pain.
Proper Lifting Technique
Another factor that increases the chances of back pain or injury at work is if you have to manually lift anything. Although this obviously affects people in manual jobs more, even office workers will sometimes have to carry heavy boxes of supplies.
So whatever sector you work in, remember to get the item you are lifting close to you, never twist your body, and always keep your back straight with your head up so you can see any obstacles. If you are in any doubt or think you may struggle with the weight of your load, don't attempt to lift it, as the strain can cause a serious injury.
Health and Risk Assessment
Every year in the UK, 7.6 million sick days are lost to back pain. So it is easy to see why it is important to ensure that your workplace has undergone a professional health and safety risk assessment and that all staff, who are expected to lift or carry, have undergone all the relevant training that will give them the knowledge they need to do so safely.
Responsible employers should keep accurate records of back pain complaints, and if a problem occurs, it should be assessed to ensure appropriate steps are taken to avoid future injuries. It is far better for the employer to look for possible adaptations for the worker, whether it be changing their daily tasks, investing in specialist equipment, or providing the relevant manual handling training.
Whatever role you are in there are a number of essential points of guidance, such as staying generally active and breaking up repetitive and inactive daily routines with regular short breaks. Similarly, not following manual handling techniques in manual professions, poor posture, and inactivity in the office can incur serious long term back problems.
In these difficult economic times, it has never been more important for both employers and employees to work together to keep productivity up and workplace injuries down. And the best way to do this is with professional health and safety training, so don't let your employer slip in their responsibilities to you.
This guest article was written by Phil Binks who is associated with Health & Safety Training Ltd which provides comprehensive health and safety courses in the North East of England for both individuals and commercial organizations. These range from forklift training courses in the warehouse to general first aid.
Please subscribe to my blog using the RSS link or email updates,follow me on Twitter, or on Pinterest.
If you enjoyed this post please click on one of the icons below and share the love.