This is a guest post by Dave Thomas. If you'd like to guest post on this blog, click here.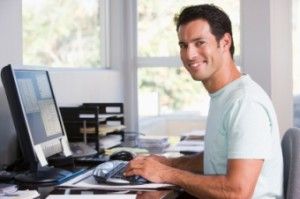 As more and more Americans find themselves the victims of layoffs and other forms of job dismissals, the idea of starting a home-based business does not seem so far-fetched. In fact, it can be just what the doctor ordered oftentimes.
No matter what form of work one may choose to do from their home, starting a business takes the proper planning and the ability to cover a number of areas so that you are not left with a losing proposition, especially a financial one.
If you are considering starting a work from home business, keep these items in mind:
Need Funding Capital
Even the smallest of home businesses will require some degree of funding to get up and running. In the event you are currently working full-time for someone else and are contemplating leaving that job to start a home business, make sure you can do away with a regular paycheck from a corporate employer. If you want to start your own home business, it is usually best to begin it on a part-time basis so that you can begin to build clientele while still drawing a full-time check from someone else. If you do need financial capital in order to get the business up and running, look at small business loans as a possible avenue.
Obtain the Necessary Licensing and Insurance
As noted above, even the smallest of businesses will likely require some licensing and, in some instances, insurance. The licensing will come from the city or town you live in. Don't just assume you do not need a license, as you could find yourself ending up with a hefty bill before long. As for insurance, if you plan on having customers coming to your residence where you are doing business, make sure you have the proper insurance protection in place such as liability coverage. If someone is injured on your property and you are not covered, you could end up with a hefty bill to cover their medical expenses for starters. You should also look into getting business interruption service, along with making sure you have renter's coverage in the event you have a fire and/or burglary.
Deduct Expenses for Tax Purposes
Remember when tax time rolls around that you can deduct a number of expenses tied to your home business. Among these items would be computer-related equipment, any new items you purchased in the last year such as printers, fax machines, phones, etc. You can also deduct certain forms of mileage if you are traveling to see clients, etc. Also deductible would be any phone and electric charges tied to your work. Make sure you keep any necessary receipts, along with recording mileage etc. to make it easy for your tax person.
Make Work your Priority
When I was laid off for about a year-and-a-half, I made it a priority to keep my home freelance writing schedule basically the same hours as I had worked in my prior full-time corporate position. It was important to me to make sure I was not slacking and working an hour or two here and an hour or two there. It would have been really easy to lounge around and get work done whenever I felt like it, but we all know that does not pay the bills. If you are transitioning from a full-time office job to a FT or PT home job, keep your hours similar whenever possible.
Comfortably Work from Home
The kind of home office furniture you have is important so that you not only feel professional working from home, but you also are comfortable for what could be long days. I set aside the spare bedroom as my office when I worked from home a few years back, making sure I had comfortable seating, my computer, printer, fax and other equipment in easy to reach areas, and an environment that felt more like work and not lounging around on my sofa trying to get work completed.
Make Sure Everyone Else is On Board
Lastly, it is important if you have family at home that they are in tune with your work needs, especially if you have young kids residing with you. Make it known what your work hours are, when you will be taking breaks, and when your workday will likely be over. The worst thing possible would be to have to choose between the two, so set the ground rules from the start.
As you can see, there is a lot to take into consideration when starting a home business.
That being said, it can also be a great way to make a living, along with giving you the professional satisfaction you may be seeking.
This guest article was written by Dave Thomas who talks about subjects such as modern office furniture, writes extensively for San Diego-based Business.com.
Please subscribe to my blog using the RSS link or email updates,follow me on Twitter, or on Pinterest.
If you enjoyed this post please click on one of the icons below and share the love.