I was putting on my shirt the other day after a great workout at the gym.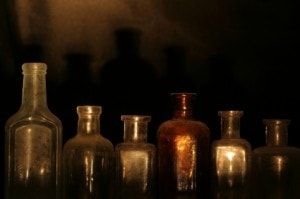 And as I was doing so, I felt that sheer sense of exhilaration that I typically feel after a rigorous workout, even though it was only 5:45AM.  I remember uttering to myself
"I wish I could bottle this feeling".
So that got me to thinking… What if we could bottle different experiences that have had a profound effect on us?  Maybe it's a certain feeling you may get, as I did, after a strenuous workout at the gym, or after a long ride on your bike.  Maybe it's an aroma that brings you back to your childhood days.  Maybe it's a feeling that you had at one point in your life that you simply want frozen in time.
This is a great topic to toss out to the reading audience because everyone has their own personal experiences that they may want to bottle.  I welcome you to share with the rest of us your feelings in the comments.  Before then, I'd like to share with you some of mine.
If I could I would bottle…
The sweet smell of slices of garlic just after they are placed in simmering olive oil.
The exhilaration and utter joy my wife and I felt when my daughter opened up the acceptance letter to her first choice college.
The aroma of burning wood coming from the chimney as I arrive home and open the door of my car on a cold winter day.
The look on my daughter's face when I told her I was bringing her to her favorite musical, Wicked, on Broadway.
The view of the sun setting over Maui on my honeymoon.
The sweet bouquet of day lilies in the Spring.
The look of joy on my mother's face when we surprised her with an 80th birthday party including relatives who came a long way to be there.
The overwhelming sense of pride that I feel watching either one of my daughters performing on stage.
The distinct sweet scent of bacon sizzling in a pan on a weekend morning.
The beauty of a landscape of freshly fallen snow.
The sense of accomplishment I feel whenever I complete a new woodworking project.
The utter joy I felt when the Boston Red Sox won the world championship of baseball after 86 years.
The intense excitement and pride I felt after breaking my coach's pole vault record as a senior in high school thirty-four years ago.
The radiance and love on my wife's beautiful face as she welcomed our eldest home from her first year away at college.
The last sweet, loving, smile and wave from my father as I walked out of the hospital room the day before he passed away…
What would you bottle if you could?  Please let everyone know in the comments…
Please subscribe to my blog using the RSS link or email updates and follow me on Twitter.
If you enjoyed this post please click on one of the icons below and share the love.