If you've ever visited the Emergency Room, you know that you are in for a wait.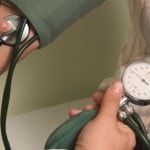 You could walk in with a severed hand and the lady at the front desk would still ask you to take a number! Take it from someone who has been in six (yes, six) car wrecks, the "Emergency" Room is more like a "We'll get to you when we get to you" Room. So here are a few tips to help take some of the wait out of your next hospital visit. Hopefully you'll never have to use them.
Avoid nights, weekends and holidays.
I know, I know, you can't PLAN an accident, but if you are able to wait and go during daylight hours chances are good that you'll get seen fairly fast. Believe it or not, doctors and nurses value their family time at nights and vacation on weekends and holidays just like everyone else, so there tends to be a shortage of staff at these times.
Bring your medical records and a list of medications you are on.
This saves tons of time and shortens the nurse/doctor interview time prior to treatment. So, if you can, bring all of your records with you to the hospital. If you can't remember what meds you are on, throw all of your bottles in a bag and take them with you!
Call your primary physician before you leave for the hospital.
Your doctor may have certain "privileges" and might be able to call ahead for you or even meet you at the hospital, saving you a seriously long wait. He can even hold a bed for you and have you directly admitted before you even walk through the doors of the ER.
Stay away from the ER!
Urgent care facilities are a super alternative to the emergency room. They are able to take x-rays, most have labs on site and they are significantly quicker than the ER, not to mention less expensive!
In QuickER
This is a new service that some hospitals are starting to use. You pay $24.99 and they hold your place in line at the hospital. Basically the old "time is money" deal, but all you do is call in and choose from the available times to see the doctor, get to the hospital at the time you selected and if you aren't seen within 15 minutes, your visit is free. Pretty cool! Check out inquicker.com for more information.
Avoid arriving to the ER during shift changes
During shift changes in a hospital you, as a patient, have two things going against you. First of all, the staff is getting ready to leave and could usually care less if your arm is broken. Second, the new staff coming into work may trickle in, so there will be less help. Also, the staff that does arrive on time is getting briefed about the patients that came in before you. Steer clear of 7am, 3pm and 11pm, as these are the general shift change times that most hospitals go by.
Try to Have a Sense of Humor
I know, easier said than done! But seriously, the staff already knows that you aren't at the hospital because you want to be. So even though you are sick or hurt, try to make light of the situation. Making these guys laugh will make you more memorable and will actually cause them to check in on you more often since they'd rather laugh than get an earful of the normal aches, pains, and complaints. So, suck it up and look for the humor in what's happening!
Alexis Bonari is a freelance writer and blog junkie. She is currently a resident blogger at First in Education, researching areas of online degree programs. In her spare time, she enjoys square-foot gardening, swimming, and avoiding her laptop.
Please subscribe to my blog using the RSS link or email updates and follow me on Twitter.
If you enjoyed this post please click on one of the icons below and share the love.