When you choose the right paint colors for the interior surface of your home, it can revitalize and beautify everything from the walls to the ceilings and even the trim. There are literally thousands of combinations you can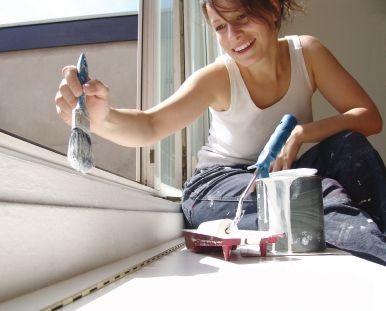 create with the color choices available on today's market. And unfortunately because there are so many choices, it's very easy to become overwhelmed by it all unless you've done your research.
First, decide which colors you find yourself drawn to. Knowing which paint colors you love the best is crucial to creating a room that you will want to be in. When you know how color affects your mood it will help in making the right color choice. Taking the time to create your own paint color scheme and sense of style is a big part of the process and will help make the job easier should you decide to hire house painters.
A great place to start is by looking through interior decorating books and magazines that inspire you. You can also go online and visit the many decorating websites that are out there that may even provide you with the specific colors they chose for the rooms. Or you can view the dozens of interior designing shows available on television. Viewing other decorating projects can give you an idea for the latest trends that you might never have considered on your own.
You can also use manufacturer's paint color samples to find the perfect color or see how different colors go together. And, when it comes to house painting, there is no reason why you have to stick with one manufacturer's products. Mix and match the paint samples until you find the right combination that you really love even if it means they're two different manufacturers.  You can also use decorating software to help you decide on the best colors for your home. There is even software that will let you upload photos of your rooms and change the paint colors so you get a 3D version of a home makeover! Some software programs even include advice from interior decorators on decorating ideas.
And finally, if you can afford to do so, you may even consider hiring a house painter to help you get the job done right the first time. If there are any problems such as cracking or other repairs needed, they have the proper tools and knowledge that will give your home a beautiful long-lasting result.
Please subscribe to my blog using the RSS link or email updates and follow me on Twitter.
If you enjoyed this post please click on one of the icons below and share the love.