This is a guest post by Jim Klossner. If you'd like to guest post on this blog, click here.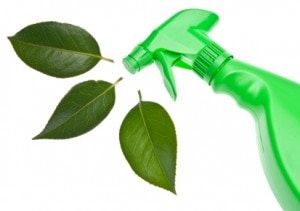 Keeping your home clean doesn't mean you have to combat dirt with a military-grade barrage of chemical warfare. There are plenty of organic ways to keep your home clean and fresh without using volatile products and burning energy.
Hopefully you can take advantage of some of these ideas to clean your home and, at the same time, help the environment.
Replace chemical cleaners with natural products
The first step you'll want to take towards green cleaning will be to dispense with all your old chemical cleaners, which can have dire effects on organisms whether it is a pet, a child, or yourself. Replace those old cleaners with the following: baking soda, white vinegar, borax, lemon juice, salt, hydrogen peroxide, natural oils for scent, and castile soaps (made with vegetable bases). These ingredients have been around for ages and are usually the "secret weapons" of professional cleaners and hand-me-down home remedies.
Make baking soda and vinegar your go-to cleansers
Baking soda and vinegar are going to be your go-to cleansers and, when combined with some of the other items, will provide effective replacements for toilet bowl cleaners, counter disinfectants, and carpet stain removers. For toilet bowl cleaners simply combine baking soda and vinegar in the bowl, let sit for twenty minutes or so, and scrub. Counter disinfectants designed to remove grease, dirt and other stains can be made from a mix of either a 2-to-1 ratio of vinegar and borax (respectfully), or by combining borax, baking soda and salt together and sprinkling on the stains; simply remove with a brush and warm water.
Use natural products for the laundry
You can also use these natural cleaners to clean your laundry. Baking soda works wonders as simultaneously a grease remover, deodorizer, and a fabric softener by just sprinkling in about half a cup into your wash. You can use the natural oils like lavender or eucalyptus as a scent supplement. You can treat stains with either salt or vinegar, letting them settle into the clothes before actually washing them. For homes with hard water, the baking soda and vinegar will work to soften it up and eliminate stains and smells associated with hard water. To save energy, consider line drying your clothes outside—which, unfortunately, might not be an available solution for those living in apartments or condos.
Use a window-cleaning natural mixture
These natural cleaning products can also be used on floors and windows. A squirt bottle filled with baking soda, warm water, and lemon juice will prove an easy and effective solution to Windex. Similarly, warm water, little bit of vinegar (about ½ a cup), a ¼ cup of castile soaps and a dash of lemon juice for extra grease-cutting powers and scent will keep your hardwood floors looking pristine and smelling fantastic—and fantastically natural at that. Almost any task in the roster of household cleaning can be accomplished by substituting harmful chemicals with these natural ones.
Of course, green cleaning doesn't apply to just green chemicals but to green energy as well. Simple things like eliminating pre-rinses from your dishwasher or using dish racks for natural drying will cut down on your water and energy use. Plants and flowers can act as natural deodorizers and air fresheners in addition to their aesthetical gain. Limiting the amount of hot water you use will also save on energy costs in dishwashing, laundry, or bathing (cold water showers will also help minimize the time spent in the shower in lieu of long, hot soaks in the tub).
The point is that there are natural cleaning methods that we can use in our everyday lives that give us a green alternative. Consider your natural cleaning options for yourself and for the environment.
This guest article was written by Jim Klossner who has been writing about green home improvement tips for over 5 years. When he is not writing, you can find him at exercising, at home with his family, or covering stories for Cahill Plumbing.
Please subscribe to my blog using the RSS link or email updates,follow me on Twitter, or on Pinterest.
If you enjoyed this post please click on one of the icons below and share the love.