This is a guest post by Michael Joseph. If you'd like to guest post on this blog, click here.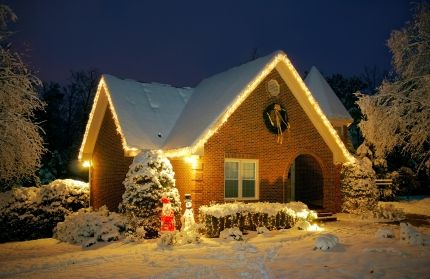 Christmas is the time of year that we all anticipate with excitement. A wonderful time of getting together with friends, family, and spending a lot of time at home cooking and indulging in all the Holiday goodies.
It's a happy time, but can become stressful if you are not organized and prepared. So, if you really want to have a tension-free and relaxed Christmas and Holiday season, you should start preparing now.
Shopping
It's a time when there's a lot of spending, buying gifts, decorations, food, outings etc. So plan your budget and do the shopping. Most shops have sales during this festive season. Check around and buy all the gifts, wrapping paper, and cards now. Buy wrapping paper and cards made of recycled paper. If the gifts you buy require batteries, purchase rechargeable batteries with an Energy Star charger. If you plan to buy any new appliances, get an Energy Star rated one to save energy and money. It will certainly pay off in the long run.
If you do shopping at the last minute, it can be stressful and you will end up spending more money. So be careful- you don't want to start the New Year in debt, having to pay exorbitant bills.
Lighting
[sc:medium_rectangle_adsense_left]
You can't imagine a Christmas without lights. Apart from all the other decorations you put up, lights enhance the festive mood in your home. Keep it conservative though. Sometimes many lights can come across as gaudy and over-the-top. It can also cost you a lot more to operate. Buy LED lights to light up your home this year.
They consume 70% less energy and last longer. Invest in a light timer to reduce energy consumption. For outdoor lights, sensors can be used, so that they turn on when needed. Be sure to turn off the lights during the day.
Get Winter-Ready
You want your home to be comfortable while you and all your family and guests spend time at home. One of the things you can look into is your windows. Weather-stripping or installing storm windows would help, but if your budget permits, try replacing the windows with energy efficient models.
Companies like Champion, manufacture special windows with excellent air leakage protection and also have energy-efficient glass. Plus it's no hassle for you as their crew will come and replace your old windows with new ones. However do this a good 2 to 3 months earlier, before Christmas. Get your heating system maintenance done. Don't forget to install programmable thermostats to cut down on your energy bills. It will also be nice to have the heat already up before you get in the shower each morning.
Clean and Declutter
Use the later weeks of November to get rid of all that you don't need to create more storage and moving space in your home. Clean all your carpets, upholstery, and curtains thoroughly or replace with new ones. Rearrange furniture, paint a wall, buy and display some antique piece – just be creative.
Mailing Cards
Mail your cards and any gifts to be sent in the first week of December. Gift wrap all the gifts with proper name tags and keep them in a safe place so you aren't scurrying around the day before Christmas to get all your gifts wrapped. If you wrap them when you buy them, they won't pile up over time.
Decorate
Buy the Christmas tree and start decorating the tree and your home in the second week of December. This will give you a chance to enjoy the tree over a longer period of time and let the Holiday spirit last a bit longer.
Cooking
[sc:link_unit_right]
Plan your menu and stock all the necessary ingredients. Start cooking two days before. Do the baking in an energy-efficient way by avoiding turning the oven off and on many times. While you want to enjoy good food, see that you don't overdo and waste food. Make sure you have enough plates, glasses, serving bowls to serve all your guests. Pick up some to-go coffee cups so that your guests can bring a cup with them on their trek home.
Enjoy the festive holiday season without any stress by just getting yourself organized properly from the start. Have a happy time with all your loved ones in the comfort of your home and look forward to a happy new year ahead.
This guest article was written by Michael Joseph who has a natural flair for interior and exterior home decor. He believes home improvements should not only be aesthetic but sensible and energy-efficient as well. Michael is a freelance writer who has had 12 years of experience as an interior designer.