This is a guest post by Clare Evans. If you'd like to guest post on this blog, click here.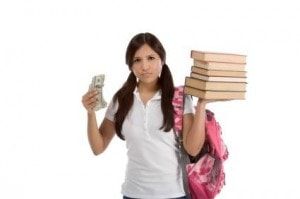 Every kid dreams of going to college. Whether it's the all night parties that lure them, or the promise of a dream job, college is a rite of passage for many teens. But tuition doesn't come cheap and with fee's rising, and our incomes dropping, it can be a tough task for parents to foot the bill.
So if your teen is desperate to head off and experience college life, how can they pay for their tuition especially if you're a low income family? Before writing college off completely, there are a number of alternative ways your kids can pay their way through college.
1. Attend College Abroad
As painful emotionally as it may be for student as well as parents, studying abroad can be both rewarding and financially easier. Some universities in Europe are free for foreign students, or offer courses at a reduced rate.
In the UK, students can apply for a loan that is interest free while in education. Students can also receive loans for living costs, and grants that they don't need to pay back. This is great for students on a budget, as they can enjoy the full experience and repay the loans when they're earning.
2. Attend College Part-Time
Many colleges offer part time courses, which allow students to work whilst studying. This is a great way to pay for your child's tuition, without the need for a loan of any kind. Students may be able to bag a job in their chosen career too. This will mean that as soon as their course is finished, they can move straight into work.
While the duration of the course is longer, the costs are considerably less and teens have the opportunity to earn and learn. This is a great choice for kids that are studying away from home, but don't have a huge bank balance behind them.
3. Get your Employer to Pay
I work at a company that offers free tuition for anyone seeking out an undergraduate or a graduate degree. It is a truly great program and I'm shocked that more co-workers, who never attended college, don't take advantage of it! I certainly did and was able to add another Bachelor's Degree to my resume and all at the expense of my company. When seeking out an employer, ask ahead as to whether or not they help employees pay for a college degree during the interview process. Not only will you look like a go-getter, but you could land a job at a company that will help you get that degree you've always wanted!
4. Seek out Scholarships
If your child has a particular talent for sports, music, or any other subject, they should consider applying for a scholarship. While competition for these is fierce, if successful you can virtually eradicate all of your fees.
This is a great option for students who want to take a more creative major but can't afford the funds. It's worth looking in a number of places for scholarships, and doing you research. They all offer different things, so see what is most beneficial to you and your teen.
When your child leaves for college, they're seeking their own independence. And paying for their college tuition is one way to be self-sufficient. But if they need a helping hand, or you can't help as much as you'd like, these are just some ways of possibly attending college.
You may also want to check out Lynn O'Shaughnessy's blog called The College Solution. She has a workbook called Shrinking the Cost of College which should help you in your quest to finance college.
This guest article was written by Clare Evans, a guest blogger for paydayagency.co.uk where she writes about all aspects of finance, loans, and money saving.
Please subscribe to my blog using the RSS link or email updates,follow me on Twitter, or on Pinterest.
If you enjoyed this post please click on one of the icons below and share the love.