This is a guest post by Patricia Hall. If you'd like to guest post on this blog, click here.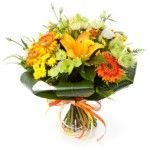 Flower arrangements are expensive. The most expensive parts of a fresh flower arrangement are the fresh flowers themselves. Fresh flowers often travel a long way from the garden to the consumer on refrigerated trucks. The cost of delivering flowers in this manner is transferred to the consumer. This cost can be significant, especially when multiplied by the many flower bouquets necessary for a wedding, reception, bridal shower, or other event. But florists and flower arrangers know that there are many ways to make your own flower arrangements on a budget. Here are a few basic tips on economical flower arrangement ideas from professionals.
Find a Florist with Free Delivery
One of the easiest ways to cut down on the costs associated with flower arrangements is to cut down on delivery costs. Many florists offer free delivery for their fresh cut flowers. This free delivery may be a temporary offer, a permanent business policy, or an offer only to those who buy over a certain set number of bulk flowers.
If free delivery is not already offered, ask for free delivery in exchange for buying in bulk. If your florist does not offer free delivery of a flower bouquet under any circumstances, consider changing florists. Many florists offer free delivery for first time customers in exchange for new business.
Delivery Coupons
Discounts on fresh flowers are not always found directly from the manufacturer. Many third party coupon companies periodically offer coupons for free delivery from florists. The key to benefiting from these coupons is to check back frequently. These deals are often only available for a limited time. Many of these third party coupon companies offer e-mail alerts to keep you regularly apprised of coupon offers.
Flower Voucher Codes
Voucher code sites are slightly different from third party coupon companies. These sites generally carry more coupons for a wider variety of florists. Unlike coupons which must often be used locally in a physical florists shop, flower voucher codes may be used with online florists. You may search third party voucher code sites for vouchers for free flower delivery or discounts on flower bouquets.
Buy Flowers in Bulk
Arranged flowers from small nurseries always include the time and expertise of the florist in their cost. Buying flowers in bulk bypasses the fees associated with pre-arranged flowers. Individual flowers are always cheaper and your savings often increase proportionally with the number of stems that you buy. Bulk flowers are not available at every flower shop or local nursery. Call around to bulk flower distributors or large nurseries for quotes on bulk prices.
Know When to Buy
Flowers are more expensive during certain times of the year. Avoid buying flowers during flower-centric holidays like Easter, Mother's Day and Valentine's Day. Consumers pay a premium on flowers during these times because they are in high demand. There may also be fewer options due to limited availability.
Buying in season is a good way to cut down on flower costs. If you buy flowers when they are blooming locally, they do not have to be shipped so the shipping cost is not transferred to the consumer. Ask your florist which flowers are currently in season and/or locally available. A certain degree of flexibility may be required to access these savings. Not all flowers are in season at any given point in time.
Consider Cheap Flower Varieties
Certain flower species are more expensive than others. Flowers that are difficult to grow or must be shipped from distant locales have higher prices. White flowers for example are the most expensive because they bruise easily. Florists must discard many damaged flowers and must transfer those losses to the consumer. Other expensive flower varieties include calla lilies, delphiniums and orchids.
Inexpensive varieties of flowers include spider mums, carnations, daisies, cornflowers and gladiolas. As an added bonus, these flower species are often less expensive because they are less delicate. They resist bruising and last longer as cut flowers than more finicky varieties. And because they are inexpensive and easy to maintain, flowers keep large numbers of these flower species on hand.
Another way to get cheap flowers no matter the variety is to ask for day old flowers from your florists. These are flowers that do not sell in a timely fashion. Florists must either discard these flower bouquets or sell them at a steep discount to make room for their next shipment. However, these flowers may vary widely in quality and variety.
Florists with free delivery, flower voucher codes, and flower choice can all cut down on the cost of a flower arrangement. Choose one or more of these basic tips to make fresh flower arrangements without going over budget.
This guest article was written by Patricia Hall works part-time for a florist focusing on floral delivery but loves to surround herself with flowers at any given point of time. Even in her free time she loves to involve herself with everything flora and fauna. "To me there is nothing more beautiful and global as the language of flowers – it is the easiest to understand all around the world in the same way. That is one reason why I truly admire flowers for what they represent in some ways – unity of all mankind!"
Please subscribe to my blog using the RSS link or email updates and follow me on Twitter.
If you enjoyed this post please click on one of the icons below and share the love.